Philadelphia, a city most famous for its rich history, is a tourist place worth visiting no matter the season. Home to around 1.5 million people, it is the biggest city in Pennsylvania.
There are many fantastic tourist places to visit, such as Liberty Bell, the Rocky Statue and the Rocky Steps Independence Hall, Reading Terminal Market, and many more. We can't recommend visiting Philadelphia enough.
Paired with these beautiful tourist places is the famous Philly food. Philadelphia was named "a booming cultural and culinary destination" by The Wall Street Journal because of its vibrant culinary scene. You can try classic Philly street foods such as the Philly cheesesteak, roast pork sandwiches, hoagies, pretzels, and water ice.
Of course, Philadelphians are also known for their love of sports. What better place to watch any sport or event than the renowned Lincoln Financial Field, home to the Philadelphia Eagles. It's located near the Walt Whitman bridge, which connects Philadelphia to New Jersey.
If you want to visit the stadium, you might need to find a nice hotel, and for that matter, we are here to share the best hotels near Lincoln Financial Field, so read on!
About the Lincoln Financial Field
The Linc, located in South Philadelphia, has a seating capacity of 71,896 and is the biggest stadium in Philadelphia. It is not just the home of the Philadelphia Eagles but also home to the Temple Owls football team from Temple University. It was opened in 2003 and has been successfully running ever since.
It has hosted thousands of events and not just sports matches. There are many different events planned for the near future, some of which are music concerts, soccer matches, and even whiskey festivals. There is always something for every type of fan here.
Their website offers more information regarding hosting your private event at one of their clubs or facilities.
As for parking, there is plenty offered nearby. With prices costing $45 for standard cars and $90 for oversized vehicles.
5 of the Best Hotels Near Lincoln Financial Field
Live! Casino & Hotel Philadelphia
Courtyard by Marriott Philadelphia South at The Navy Yard
Philadelphia Airport Marriott
Four Seasons Hotel Philadelphia at Comcast Center
Super 8 by Wyndham Gloucester
Overview
Live! Casino & Hotel Philadelphia
This is the closest hotel to the Lincoln Financial Field and the Citizens Bank Park, and is located directly across the street from the South Philadelphia Sports Complex. The hotel is only 0.7 miles from the Linc, a three-minute drive, or for those wanting to go for a walk; it is just an 11-minute walk away.
This place is perfect for those looking for a hotel nearest to the stadium. It is a three-star hotel with a rating of 4.2, according to 4,000+ Google reviews.
Highlights and amenities
Plenty of amenities are included, such as nine restaurants, one of which is a deli and another a bakery, three bars, and lounges. Wi-Fi is included throughout the entire hotel. It is a hotel that provides all services that one might need.
For cuisine, they offer Asian and Italian eateries, burgers, and tacos, as well as a sports and gaming venue that offers different cuisine.
Inside the hotel, you can find a casino with 140 high-action table games, 2000 slot machines, poker rooms, and much more. There is free parking inside the hotel and charging stations, but if you can't find a spot that's free, there are four parking lots conveniently located within a five-minute walk from the hotel.
Additional information
Courtyard by Marriott Philadelphia South at The Navy Yard
Courtyard by Marriott Philadelphia is a pet-friendly hotel, mere 1.2 miles away from the Linc. Going by car would take around five minutes; if you are walking, you are looking at a 23-minute walk. It is a three-star hotel with a 4.5 rating from 1,100+ Google reviews.
Highlights and amenities
The hotel offers amenities such as an on-site restaurant, room service, a 24-hour gym and fitness center, a pool, laundry facilities, and a convenience store. There is a meeting and event space with free Wi-Fi throughout the hotel for those looking to work while staying there.
As for the restaurant, they offer breakfast and dinner only, in addition to their mouth-watering bistro snacks. After a nice meal, with your drink in hand, you can head out to their outside spaces to unwind and relax. You can enjoy the modern patio and firepits with plush couches and chairs.
Parking and charging stations on the property have a fee, but there is free parking on the street around the hotel, which may be an unreliable option.
This hotel is a Marriott hotel, so it's pretty much guaranteed to be a worthwhile experience, with little to no trouble with services or staff.
Additional information
Philadelphia Airport Marriott
The Philadelphia Airport Marriott is located at the Philadelphia International Airport via skywalk to terminal B. This is an upscale four-star hotel with a rating of 4.1 from 2,000+ Google reviews.
Although this hotel is connected directly to the airport, there are soundproof windows in place and no sound from the airport itself. They do offer an airport shuttle, but most, if not all customers have stated that a shuttle is unnecessary as it is way faster and more convenient to walk to the hotel.
Depending on the room, you can access the lounge with complimentary breakfast and evening appetizers. Apart from this, the hotel offers many amenities, including meeting rooms, a business center, laundry facilities, a convenience store, a gym, and a fitness center, as well as room service and free Wi-Fi that covers the premises of the entire hotel. Plenty of on-site parking is available for a daily fee of $28 with a height restriction of 6 feet.
Because this hotel is 6.8 miles from the Linc, you have to take some transport to get there. It is a 10-minute drive, and a taxi is available for anything between $28 and $35. As an alternative, you can take public transport. To be more specific, bus line 68, which is a 38-minute ride, costs around $2-$3. If unavailable, you can also take the bus line 37, which is a slightly longer ride of around one hour, and costs around $1-$8.
Additional information
Four Seasons Hotel Philadelphia at Comcast Center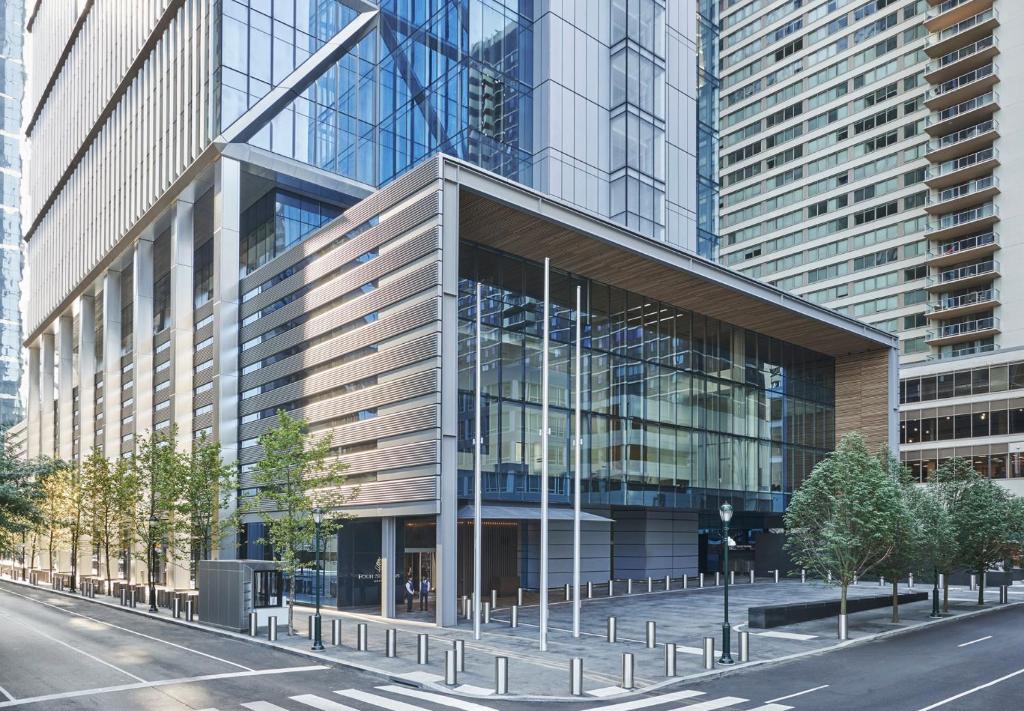 It is one of the best hotels near Lincoln Financial Field, for that matter, one of the best and most luxurious hotels in Philadelphia. The Four Seasons Hotel Philadelphia is located in the center of the town, located 6.2 miles or a 12-minute drive by car from the Linc. It is a five-star hotel boasting an impressive rating of 4.7, according to 600+ Google reviews.
Highlights and amenities
This hotel offers a luxurious and modern atmosphere and many amenities, including a spa, a gym, fitness facilities, free Wi-Fi, laundry services, a restaurant, and a bar. It is a pet-friendly hotel with possibly the best views of the city as you will be located between the 48th and 56th floors of the building.
Parking and charging stations are available in the building and must be paid for. Be wary that there is a height restriction on the parking garage.
Because this hotel is located in the center of the entire city, it is near many public transport options. The cheapest option to the Linc is the subway; you have to take a 10-minute walk to the subway station, then a 34-minute ride to the Linc. This trip will set you back between $1-$6. Another option is going by bus; you will need to take the bus line 17, which will take around 33 minutes to get to the Linc and costs around $2-$3.
Undoubtedly the best option is to go by taxi, and you can find one on the street in front of the hotel. It is a 7-minute ride, and it costs anywhere between $22 and $27.
Additional information
Super 8 by Wyndham Gloucester
When looking for hotels near Lincoln Financial Field, this hotel sets itself apart because of its different location from other hotels.
For those looking to get out of the hustle and bustle of the city, this is an excellent hotel near the Linc. It's five miles away or a 10-minute drive by car. Please note that the route between the hotel and the Linc does have tolls. Super 8 is a two-star hotel with a 3.2 rating according to 700+ Google reviews.
It is in the Gloucester area, technically on the border between New Jersey and Philadelphia, 11 miles from the airport and nine miles from downtown Philadelphia.
Highlights and amenities
Although there aren't many amenities, they offer free Wi-Fi, free parking, and complimentary breakfast. It is a reasonably priced hotel for those not looking for anything fancy and those who just want a nice place to sleep and rest.
From this hotel to the Linc, there are plenty of transport options. The best option is a taxi, which will take a seven-minute drive and costs anywhere between $25 and $31.
Other public transport options are the bus line 457, then taking two subways, or the bus line 408, then a subway. The first option is an hour and 22-minute ride, which will cost $4-$18, and the latter option is an hour and 24-minute ride and will cost between $2-$10.
Going by taxi is far better than any public transport since the hotel is inconveniently located across a river that can be crossed via a car bridge, but public transport has to circle around.
Additional information
Summary
There are plenty of hotel options near Lincoln Financial Field and in Philadelphia in general. Ranging from good enough two stars to excellent five stars, there are hotels to suit the needs of every tourist's liking and budget. Amazing views paired with many places to visit and many things to do!