California is home to a variety of impressive arenas and stadiums, each offering unique experiences for spectators and sports enthusiasts alike.
From iconic baseball parks to state-of-the-art soccer-specific stadiums, the Golden State has something for every sports fan. As the heart of entertainment, it's no surprise that California boasts some of the most sought-after venues for hosting games, concerts, and other major events.
Notable arenas and stadiums in California include Levi's Stadium, Honda Center, and the SAP Center, which are frequented by both locals and tourists for various events. Moreover, the historic Dodger Stadium remains a cornerstone of Los Angeles culture, while the modern Banc of California Stadium has quickly become a fan-favorite for soccer enthusiasts.
With a mix of well-established and newer venues, California's stadiums and arenas reflect the evolving landscape of sports, entertainment, and architectural design.
From San Francisco's Oracle Park to Los Angeles' Staples Center, these arenas and stadiums not only provide world-class sporting and concert experiences but have also become integral parts of the local communities.
They contribute to the economic and social fabric of their respective cities while providing unforgettable memories for millions of visitors each year.
Whether a dedicated sports fan or someone seeking a taste of California's vibrant entertainment scene, exploring these venues offers a glimpse into the state's rich sports culture.
Historical Arenas and Stadiums in California
Los Angeles Memorial Coliseum
The Los Angeles Memorial Coliseum, located in the University Park neighborhood of Los Angeles, has a rich history dating back to 1923. This iconic venue has hosted numerous significant events, such as the 1932 and 1984 Summer Olympics, Super Bowls, and World Series games. The Coliseum is home to the University of Southern California (USC) Trojans football team and has also been the home of various professional football teams, including the Los Angeles Rams and the Los Angeles Chargers.
With a seating capacity of over 77,000, the stadium has undergone renovations and upgrades to maintain its status as a premier sports venue. In addition to sports events, the Coliseum has also served as a stage for concerts, political events, and community gatherings.
Rose Bowl Stadium
The Rose Bowl Stadium, situated in Pasadena, California, is another historical landmark in the world of sports arenas. Opened in 1922, the stadium is primarily known for hosting the annual Rose Bowl Game, one of the oldest and most prestigious college football bowl games. The stadium has also hosted several major events, including the 1984 Summer Olympics soccer matches, five Super Bowls, and the 1994 FIFA World Cup Final.
With a seating capacity of over 88,000, the Rose Bowl Stadium has been consistently upgraded to accommodate modern amenities and technology while preserving its historical significance. It is an important cultural landmark in Southern California and continues to host various sporting events, concerts, and festivals.
Major Modern Arenas and Stadiums
SoFi Stadium
SoFi Stadium, located in Inglewood, California, is a state-of-the-art multi-purpose arena that serves as the home field for both the Los Angeles Rams and the Los Angeles Chargers.
The stadium opened in 2020 and boasts a seating capacity of approximately 70,240, making it one of the largest stadiums in the state. One of the most notable features of SoFi Stadium is its translucent roof, which allows natural light into the venue while still providing shelter from the elements.
This stunning stadium also offers numerous amenities, such as luxury suites, premium seating options, and cutting-edge technology throughout the facility.
Levi's Stadium
Levi's Stadium, located in Santa Clara, California, is the home of the San Francisco 49ers. The venue opened in 2014 and has a seating capacity of 68,500. Levi's Stadium is known for its environmentally-friendly design and a commitment to sustainability.
The stadium features a green roof, solar panels, and energy-efficient systems throughout the facility.
In addition to hosting NFL games, Levi's Stadium is a popular venue for concerts and other large-scale events, offering a first-class experience for fans and guests alike.
Chase Center
Chase Center, situated in San Francisco, California, is the home of the Golden State Warriors basketball team. Opened in 2019, the arena has a seating capacity of 18,064 for basketball games and can accommodate up to 19,500 for concerts and other events. Chase Center is a modern sports and entertainment complex, featuring various amenities such as luxury suites, club seating, and top-notch food and drink options.
Chase Center also boasts an impressive art collection and a public waterfront park surrounding the facility, making it an attractive destination for both sports enthusiasts and those looking for a unique cultural experience.
In summary, these modern arenas and stadiums in California provide state-of-the-art facilities for both sports and entertainment events. They are characterized by their innovative designs, commitment to sustainability, and the wide range of amenities offered, ensuring guests and fans have unforgettable experiences while visiting these venues.
Multipurpose and College Stadiums
California is home to numerous multipurpose and college stadiums that host various sporting events, concerts, and other activities. In this section, we will be discussing three well-known stadiums in the area: Staples Center, Golden 1 Center, and Honda Center.
Staples Center (Crypto.com Arena)
Staples Center, currently known as the Crypto.com arena, located in downtown Los Angeles, is a versatile venue that accommodates various events such as basketball games, hockey matches, concerts, and more. As the home of four major professional sports teams – the NBA's Los Angeles Lakers and Los Angeles Clippers, the NHL's Los Angeles Kings, and the WNBA's Los Angeles Sparks – the arena has a seating capacity of around 20,000, depending on the event hosted. Staples Center is well known for providing sports enthusiasts and event-goers with an unparalleled experience, thanks to its state-of-the-art facilities and vibrant atmosphere.
Golden 1 Center
Another multipurpose arena in California is the Golden 1 Center, situated in downtown Sacramento. Opened in 2016, it serves as the home court for the NBA's Sacramento Kings, and it is also used for concerts, conventions, and other entertainment events. The arena has a seating capacity of about 17,500, and boasts eco-friendly features such as solar panels and water-saving systems. Golden 1 Center's modern design and commitment to sustainability have made it a popular destination for sports and entertainment events in Northern California.
Honda Center
Lastly, the Honda Center, found in Anaheim, is yet another multipurpose arena in California. It is primarily known as the home arena for the NHL's Anaheim Ducks, but it also hosts various other events, including concerts and basketball games. With a seating capacity of approximately 18,300, the Honda Center has established itself as a key venue for sports and entertainment events in Southern California. Visitors can experience exceptional views and sound quality during events, making their overall experience enjoyable and memorable.
These three multipurpose and college stadiums underscore the breadth and variety of sporting and entertainment options available to residents and visitors of California. Staples Center, Golden 1 Center, and Honda Center each offer their own unique atmosphere, features, and event opportunities, ensuring that there is something for everyone to enjoy in the Golden State.
Outdoor Stadiums for Baseball and Soccer
Dodger Stadium
Dodger Stadium, located in the Elysian Park neighborhood of Los Angeles, hosts Major League Baseball's Los Angeles Dodgers. Since its opening in 1962, the historic stadium has been the home of the Dodgers. The stadium, which cost $23 million to build, is equivalent to $206 million in today's dollars.
The facility offers an excellent experience for baseball fans, boasting good sightlines and a great atmosphere. Visitors can enjoy various amenities, including food and beverage options, throughout the stadium.
Oracle Park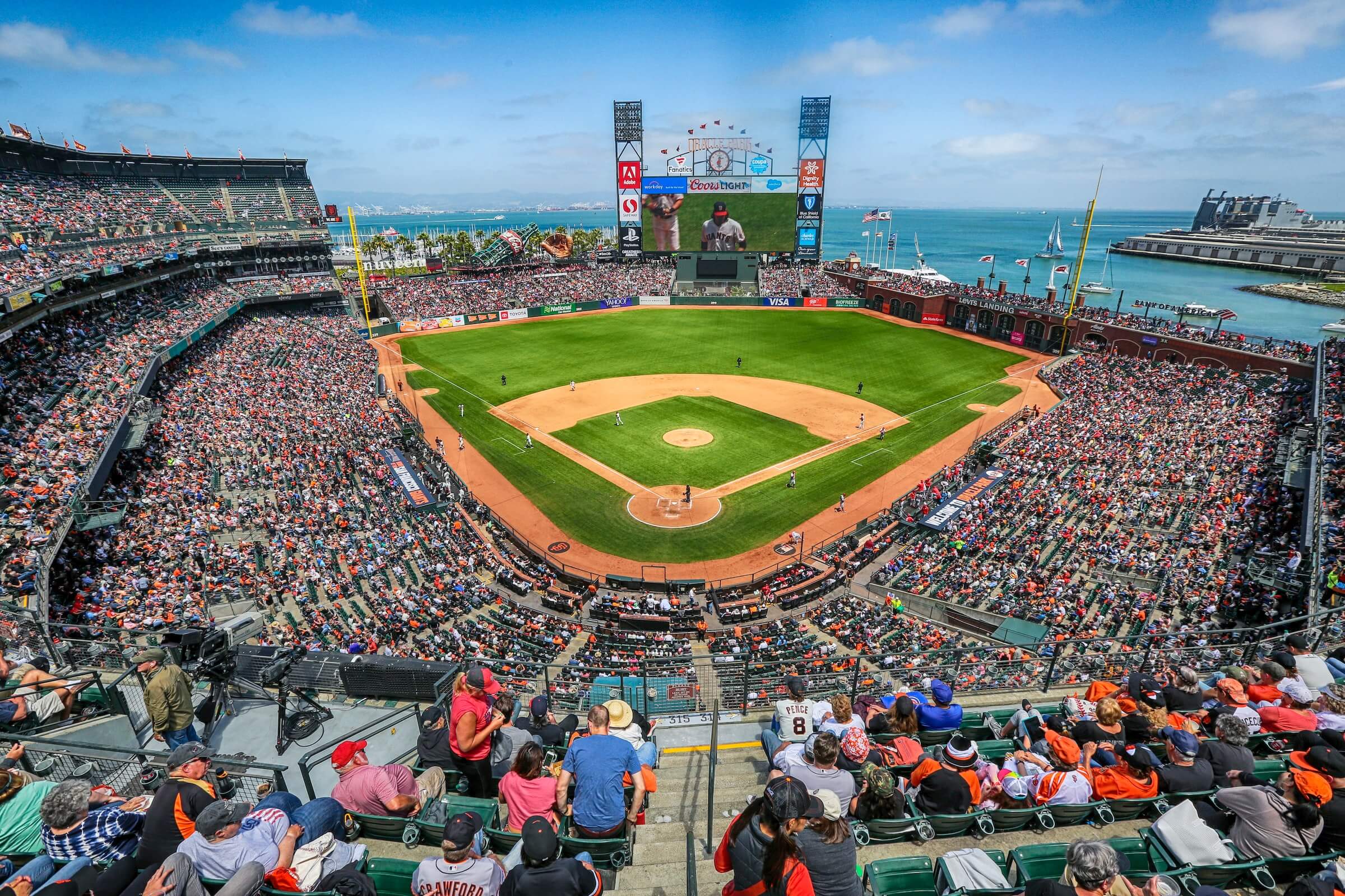 Oracle Park, nestled along the San Francisco Bay, is home to the Major League Baseball's San Francisco Giants. The stadium, which opened in 2000, features unique design elements such as the 24-foot high right-field wall, known as the "Splash Zone," where home runs often land in the bay.
Fans at Oracle Park are treated to breathtaking views of the Bay Bridge and the city skyline. The ballpark also offers various dining options, ranging from classic ballpark fare to gourmet food offerings from well-known chefs.
Banc of California Stadium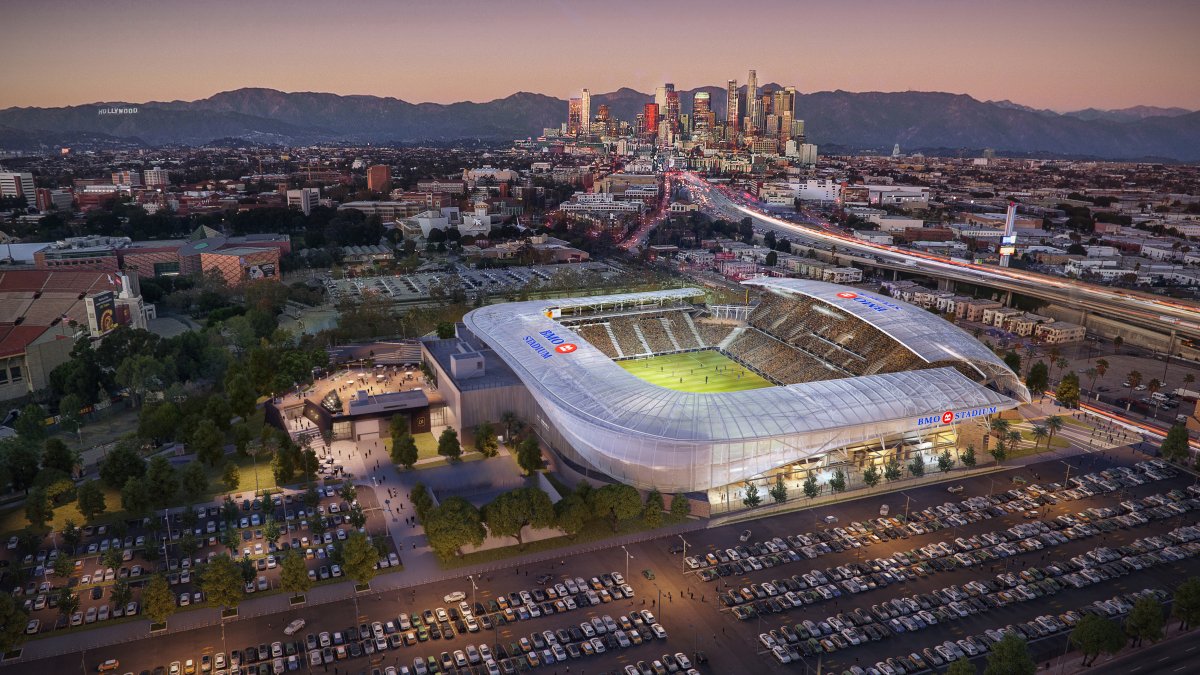 Banc of California Stadium, in the heart of Los Angeles, serves as the home venue for Major League Soccer's Los Angeles FC.
With a capacity of 22,000, the stadium provides an intimate setting for soccer matches, enhancing the fan experience.
The venue includes numerous amenities for the comfort and enjoyment of the fans, including premium seating options, a diverse variety of food and beverage choices, and excellent sightlines. The stadium boasts a steep seating bowl, making every seat feel close to the action.
These outdoor stadiums for baseball and soccer in California not only offer exciting sports events but also provide a memorable experience for their visitors, complete with scenic views, top-notch facilities, and exceptional entertainment.
Future Developments
California is witnessing a growing trend in sports arenas and stadiums investments. As the demand for modern and environmentally sustainable spaces rises, we can observe some significant developments in California's arena and stadium landscape.
Several sports teams in California are ready for new or upgraded stadiums, with investments likely reaching more than $10 billion for development by 2030. The focus of these upgraded facilities will be on smaller, more technologically advanced, and greener arenas. Popular features include—
Better connectivity for fans through Wi-Fi and mobile app experiences
Eco-friendly building materials and energy-efficient systems
Enhanced focus on multi-use and accessibility
In the housing context, California is leveraging its sports arenas for more housing options. For instance, the state housing agency has cited Angel Stadium in Anaheim and Pechanga Arena in San Diego for development deals that emphasize the addition of affordable housing units. Additionally, the agency is investigating the possibility of such deals at Oakland Coliseum.
The following are some noteworthy projects currently in development or under investigation:
Angel Stadium, Anaheim: To potentially incorporate affordable housing units within the complex
Pechanga Arena, San Diego: Similar affordable housing integration encouraging sustainable living
Oakland Coliseum, Oakland: Under investigation for public-private partnerships that will benefit the community
In conclusion, the future of California sports arenas and stadiums involves smaller venues with smart technology and environmental friendliness. These developments, apart from enhancing fan experiences, will contribute to urban growth and create affordable housing opportunities for the community.
Conclusion
In recent years, California has seen the construction and renovation of several arenas and stadiums. These venues not only support the state's sports teams, but they also serve as an essential part of the local economy by providing jobs and generating revenue through events and tourism.
Among the iconic stadiums in California, Dodger Stadium in Los Angeles stands out due to its rich history and capacity to seat 56,000 spectators. First opened in 1962, it is now home to the Los Angeles Dodgers (MLB) and has witnessed countless memorable baseball moments.
The East Oakland Stadium Alliance has been protesting the construction of a new stadium, expressing concerns about the potential disruption of labor at the nearby Oakland port, and the pricing out of working-class people from the area. Engaging with the community in such instances is integral to maintaining a balance between development and preservation of the region's values and principles.
Urban areas in California are projected to experience significant growth over the next 30 years. This includes a $2.8 billion increase in the number of venues dedicated to hosting events. As such, the state will see more arenas and stadiums built to accommodate this demand. Consequently, it's crucial to consider the impacts of these developments on surrounding communities and ensure a sustainable approach to their construction and management.
James is a big time NBA Golden State follower, who makes sure to catch games when he's in the area. He likes to follow International Soccer, with an interest in small town soccer club, Blackburn Rovers located in the North on the UK.