Angel Stadium, home to the Los Angeles Angels, is a popular destination for baseball enthusiasts and visitors alike. Conveniently located in Anaheim, California, attending a game at this iconic venue can be a seamless and enjoyable experience with just a little preparation. In this quick guide, we will provide essential information for getting to Angel Stadium, ensuring that your trip to the ballpark is smooth and hassle-free.
From public transit options, driving directions, parking tips, to alternative commuting choices, our guide covers various ways to reach Angel Stadium, whatever your preference may be. Also, by offering additional tips and tricks, we aim to help you make the most of your Angel Stadium visit, whether you are a first-time visitor or a seasoned fan.
Key Takeaways
Explore the variety of ways to get to Angel Stadium, including public transit, driving, and alternative commuting options.
Familiarize yourself with parking details, regulations, and locations to ensure a hassle-free visit.
Make the most of your trip with additional tips and tricks for an enjoyable Angel Stadium experience.
Basic Stadium Information
Location
Angel Stadium is located in Anaheim, California, at 2000 E Gene Autry Way. It's approximately 24.5 miles southeast of downtown Los Angeles.
Transportation Options
There are multiple options for getting to Angel Stadium, including driving, public transportation, and rideshares. Here is a quick breakdown of these transportation options:
Driving: If you're coming from the Los Angeles downtown area, you can take the I-10 East and then merge onto the I-5 South. From there, take the Katella Ave. exit toward Orangewood Ave. Drive 0.2 miles, then take the Katella Ave. ramp and drive 0.3 miles. Turn right onto E. Katella Ave., and you'll soon arrive at the stadium.

Public Transportation: The stadium is also accessible via public transportation. You can take the Metrolink train or the Amtrak Pacific Surfliner train from downtown Los Angeles to the Anaheim-ARTIC station. From there, it's a short walk to the stadium.

Rideshare: Rideshare services such as Uber and Lyft are available for transport to Angel Stadium. Simply input the stadium's address as your destination, and your driver will handle the rest.
Keep in mind that if you choose to drive, accessible parking is available outside Gates 1-6 and the Home Plate Gate. While visiting Angel Stadium, don't forget to adhere to the security guidelines in order to enjoy a hassle-free experience.
Public Transit to Angel Stadium
Metrolink
Traveling to Angel Stadium via Metrolink is a convenient option. Attendees can take the Orange County Line train to the ARTIC (Anaheim Regional Transportation Intermodal Center) station, which is close to the venue. To access the stadium, use the Douglass Road gate at the northeast corner of the parking lot. This mode of transportation is both efficient and environmentally friendly.
Amtrak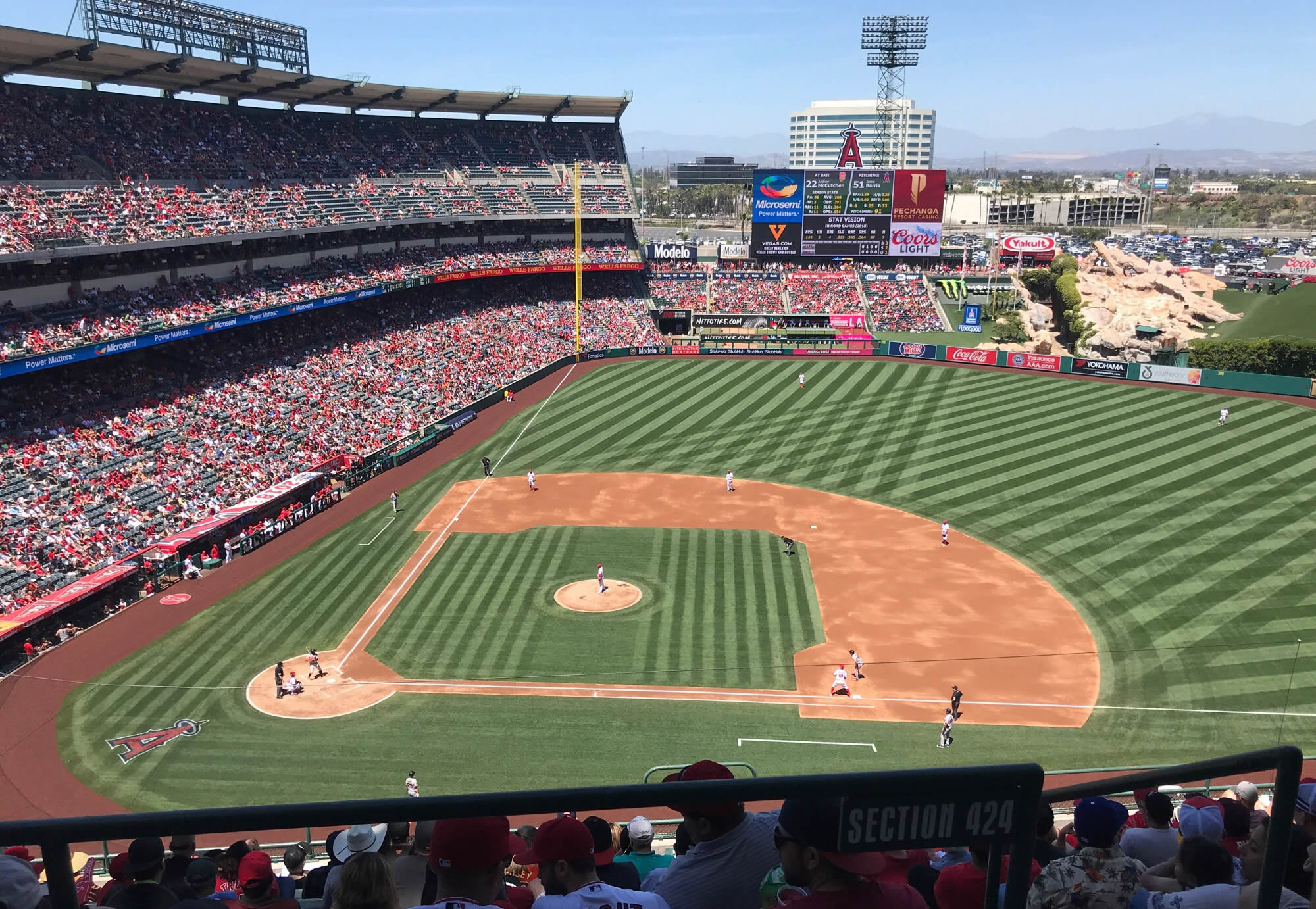 Amtrak serves as another public transit option for reaching Angel Stadium. Although not mentioned in the search results, Amtrak's Pacific Surfliner stops at the ARTIC station in Anaheim, providing a similar transportation option as the Metrolink train. Check current schedules for Amtrak to ensure your travel times align with your game or event plans.
Orange County Bus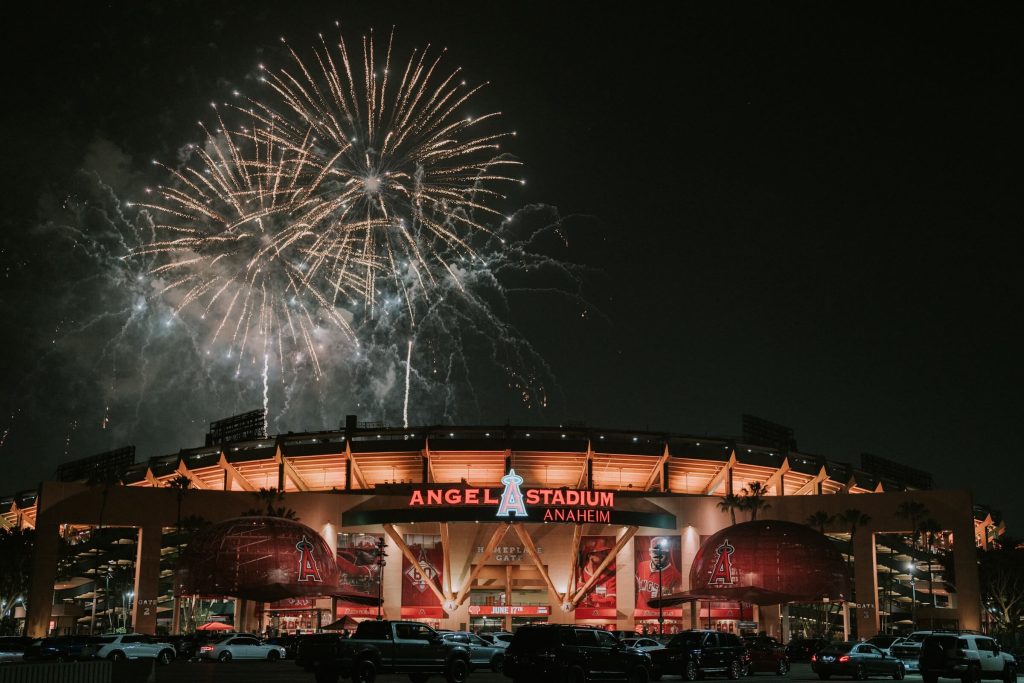 There are several buses that have routes passing near Angel Stadium, such as lines:
For example, the trip from the City of Santa Ana to the venue takes around 52 minutes by bus, making it an affordable and accessible public transit option. Check the respective bus route's schedule and step-by-step directions on travel planning platforms, such as Moovit, to plan your journey efficiently.
Driving and Parking
Driving Directions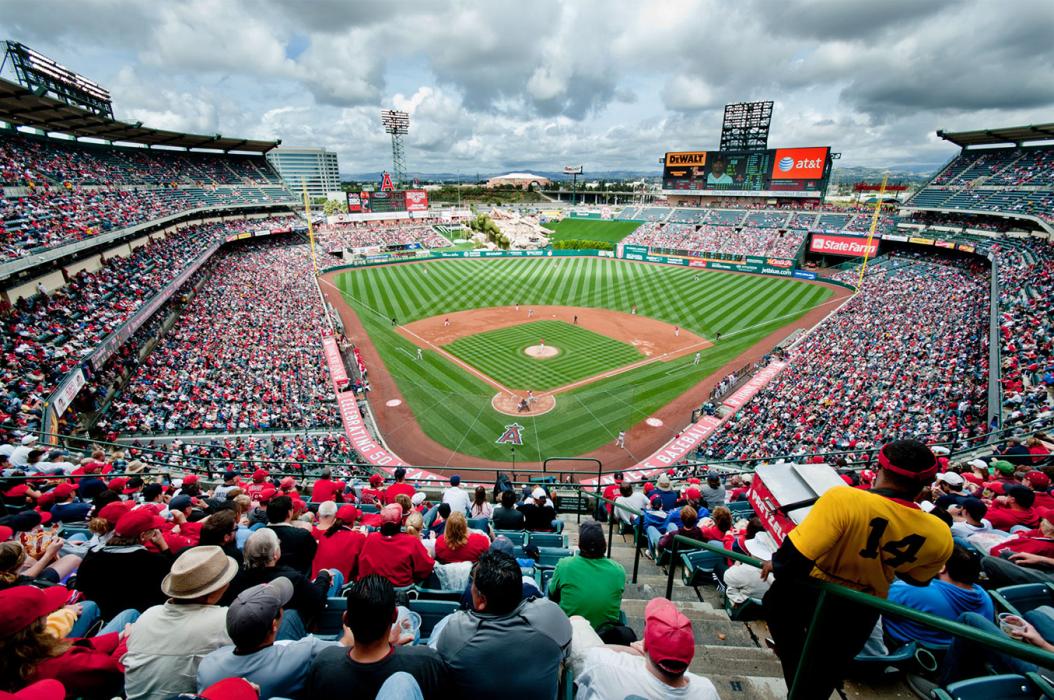 From Los Angeles – Downtown Area, follow these directions:
Take the I-10 East
Merge onto I-5 South
Drive 24.5 miles
Take Katella Ave. exit toward Orangewood Ave.
Drive 0.2 miles
Take Katella Ave. ramp
Drive 0.3 miles
Turn Right onto E. Katella Ave.
Parking Options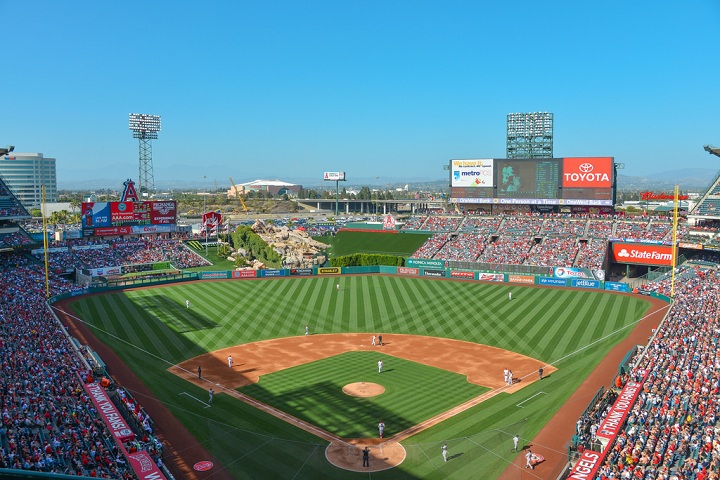 At Angel Stadium, there are various parking options for your convenience:
General Parking: Expect to find ample spaces for general parking on the stadium premises.
Preferred Parking: For attendees desiring closer parking spots, preferred parking is available at an additional cost.
Rideshare: Utilize ridesharing services like Uber or Lyft for an alternative transport option, which can drop you off near the entrance.
Accessibility
Angel Stadium ensures that guests with disabilities have a smooth experience:
Accessible Parking: Designated accessible parking spaces are available for guests with valid disability parking permits.
Shuttle Service: A courtesy shuttle is provided from accessible parking spaces to the stadium entrance.
Remember to abide by the rules and regulations set by the stadium while using these facilities.
Alternative Commuting Options
Ridesharing
Ridesharing services like Uber and Lyft are popular and convenient options to get to Angel Stadium. They save you the hassle of parking and can often be more cost-effective, especially if you're splitting the fare with others. Remember to set your drop-off and pick-up locations accurately, and always follow the stadium's security guidelines.
Biking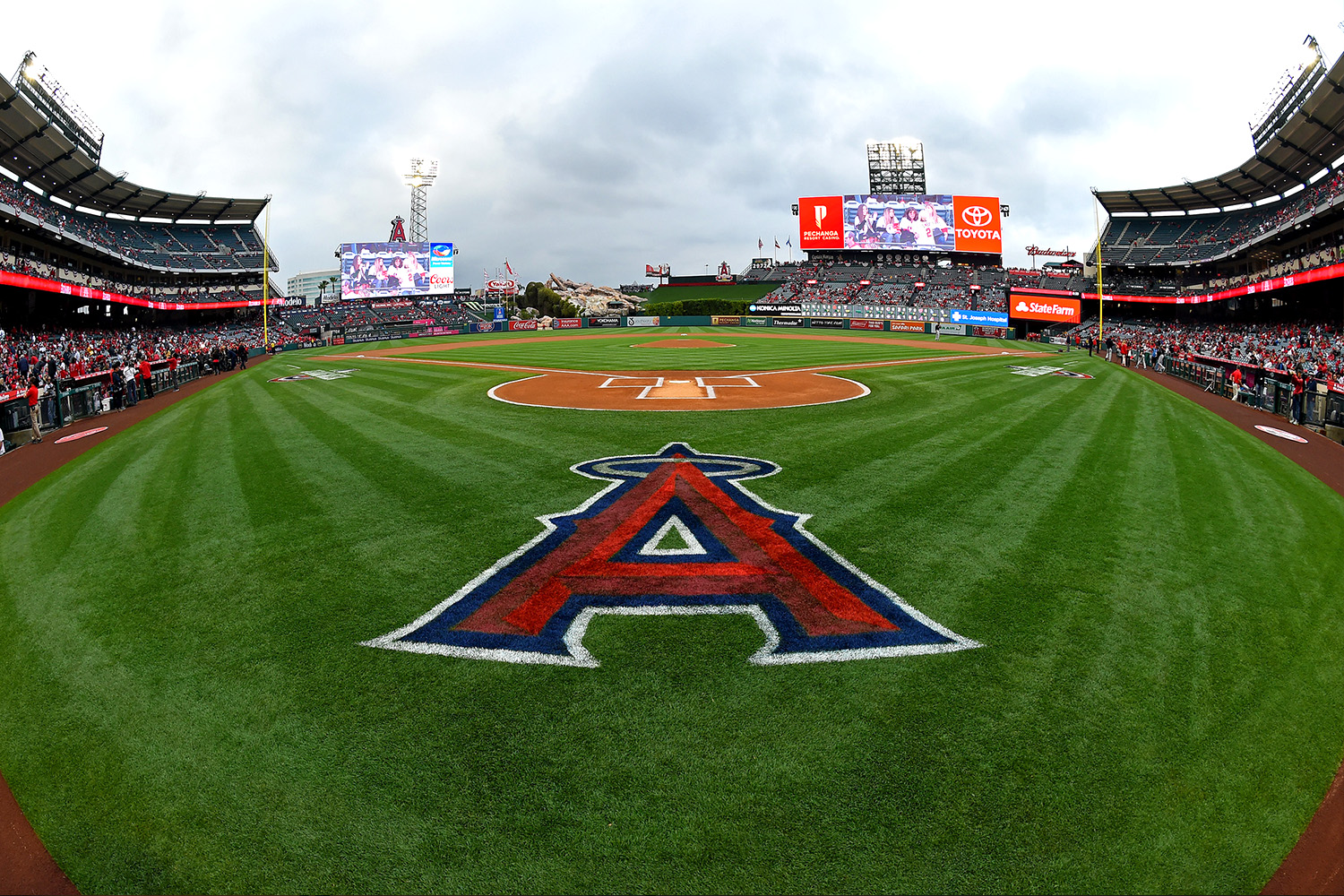 For those who prefer an eco-friendly and active mode of transportation, biking is a great option to reach Angel Stadium. With bike lanes and racks available in the vicinity, you can ensure a smooth ride and secure parking for your bicycle.
Additional Tips and Tricks
Arrival Time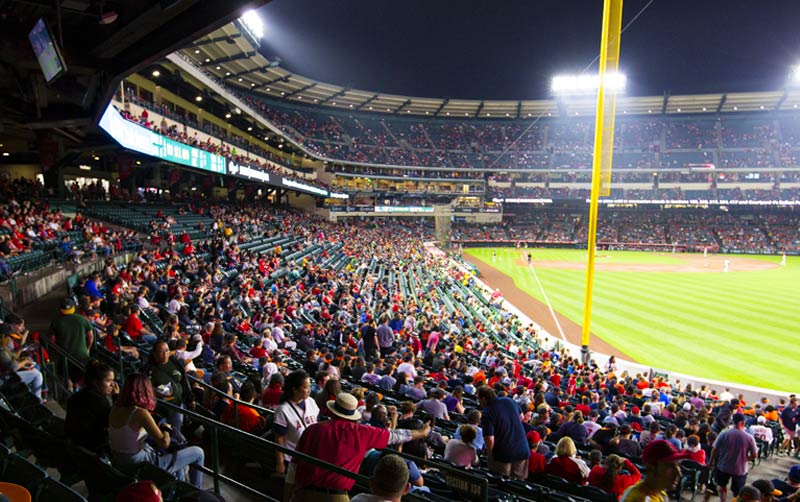 It's essential to plan your arrival time wisely to avoid unnecessary stress. Angel Stadium gates typically open 90 minutes before the game, which gives you plenty of time to explore the stadium and find your seats. It's recommended to arrive at least 45 minutes before the game starts to avoid traffic and parking issues. This will also provide you with ample time to enjoy any pre-game activities and comfortably navigate your way through the stadium.
Food and Drink Options
Angel Stadium offers a variety of food and drink options to suit every taste bud. However, if you're looking to save money or prefer specific snacks, you can bring a soft cooler with food and non-alcoholic drinks into the stadium. This flexibility allows you to enjoy your favorites while watching the game. Make sure to pack your items in a soft-sided container, as hard coolers are not allowed.
In case you want to explore the stadium's culinary offerings, there are numerous options to choose from. You can find classic ballpark fare like hot dogs and popcorn, as well as unique dishes from local vendors. Don't forget to check out the various beverage options available, including a wide selection of beer, wine, and soft drinks.
Remember to keep these tips in mind as you plan your visit to Angel Stadium. With proper planning and a bit of insider knowledge, you can have a smooth and enjoyable experience at the ballpark.