San Diego, a coastal city in southern California, is home to a diverse range of stadiums and arenas that cater to various sports and live events. Whether you're a fan of football, baseball, or concerts, this vibrant city has something for everyone. San Diego is also renowned for its pleasant weather, making outdoor events all the more enjoyable.
Some of the most notable stadiums and arenas in San Diego include Viejas Arena, Snapdragon Stadium, and Pechanga Arena San Diego. Viejas Arena, located on the San Diego State University campus, is a popular venue for concerts and sporting events, offering an intimate atmosphere and excellent seating. Snapdragon Stadium is a multi-purpose venue in Mission Valley that hosts a variety of sports events and concerts. Lastly, Pechanga Arena San Diego, formerly known as Valley View Casino Center and San Diego Sports Arena, has stood as a prominent venue for concerts, sports, and live events, offering a rich history and diverse event calendar.
These venues, among others, showcase the dynamic San Diego entertainment scene and provide locals and visitors alike the opportunity to experience unforgettable events. Sports fans can revel in the action on the field, while music enthusiasts can connect with their favorite artists at live concerts in these iconic stadiums and arenas.
Stadiums & Arenas in San Diego
San Diego hosts a variety of stadiums and arenas, showcasing diverse events ranging from baseball and football games to concerts and cultural events. This section highlights three prominent venues: Petco Park, SDCCU Stadium, and Pechanga Arena.
Petco Park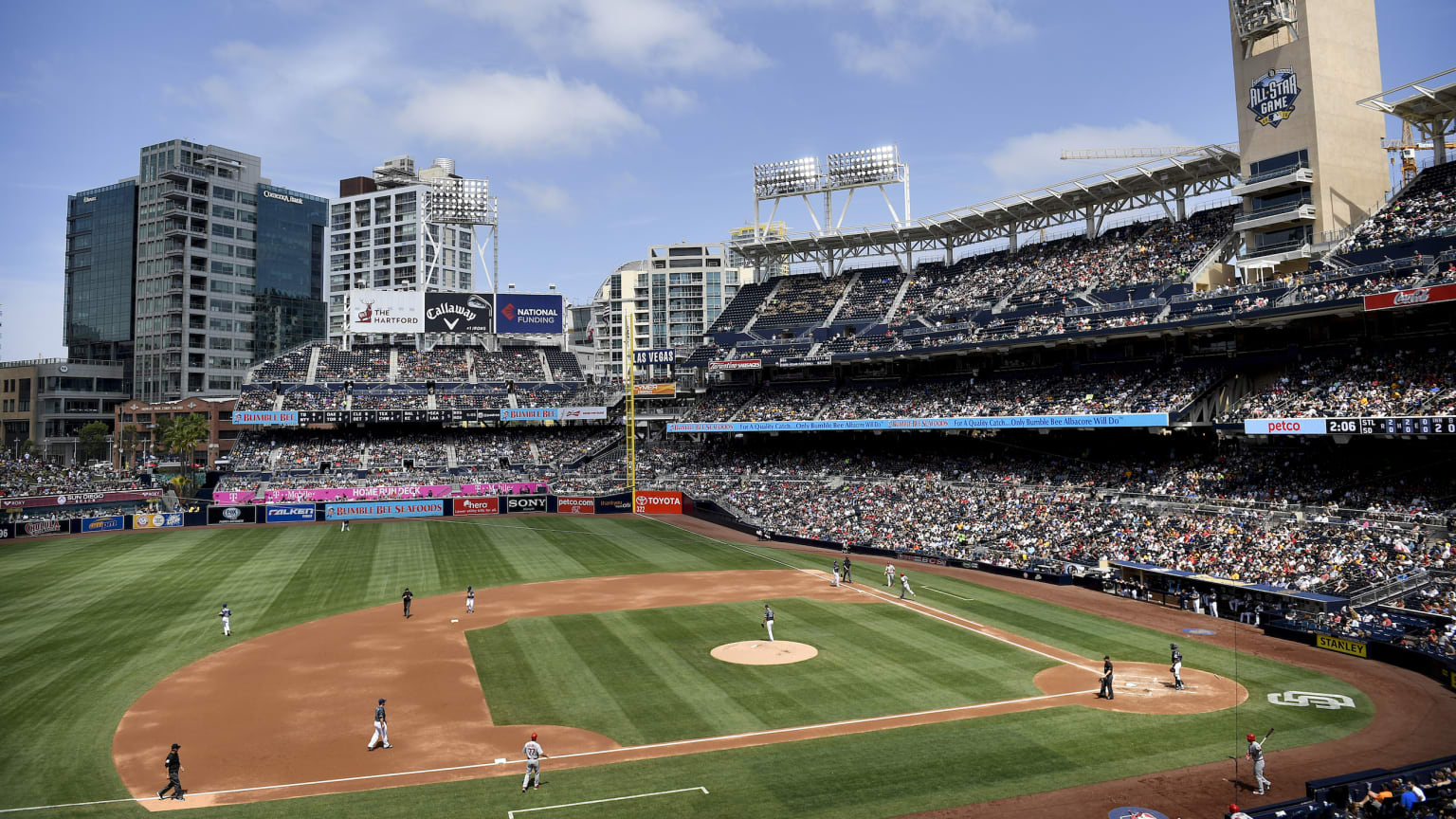 Petco Park is a famous sports complex located in downtown San Diego. Primarily known as the home of the San Diego Padres, a Major League Baseball team, Petco Park also hosts various events and concerts throughout the year. The stadium can accommodate up to 42,445 spectators and is praised for its excellent sightlines and diverse food options.
The park's location in downtown San Diego offers a picturesque backdrop of the city skyline, as well as easy access to public transportation and nearby attractions. Fans can enjoy unique food items, such as sushi and local craft beers, while watching games or events from various seating options.
SDCCU Stadium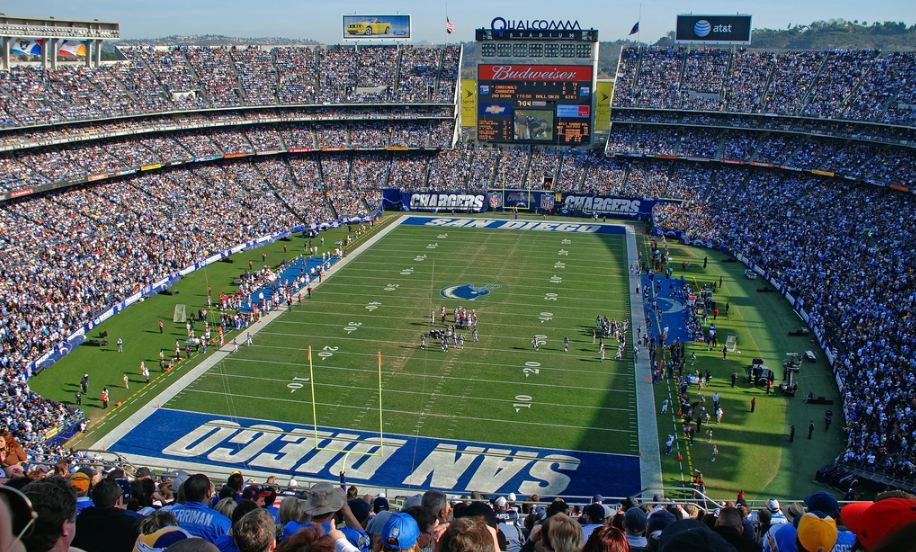 SDCCU Stadium, formerly known as Snapdragon Stadium, is located in Mission Valley and can host up to 35,000 spectators. Primarily serving as the home stadium for the San Diego State Aztecs football team, SDCCU Stadium also accommodates a variety of events, including soccer matches, concerts, and trade shows.
Providing ample parking and modern amenities, the stadium aims to create an engaging experience for its visitors. With a mix of traditional stadium fare and various food options, the SDCCU Stadium is a versatile and engaging venue for sports and entertainment.
Pechanga Arena
Pechanga Arena, formerly known as San Diego Sports Arena and Valley View Casino Center, is a popular venue for concerts, sports, and live events. With a capacity of 14,800 spectators, the arena has hosted numerous memorable events, including performances by legendary artists and exciting sporting contests.
Located in the Midway neighborhood, Pechanga Arena offers a variety of entertainment options for locals and tourists alike. The arena boasts an event calendar filled with diverse happenings, ensuring that there is always something interesting to attend.
Events & Sports Teams
MLB: San Diego Padres
The San Diego Padres are a Major League Baseball (MLB) team based in San Diego, California. They play their home games at the Petco Park, located at 1920 Tony Gwynn Way, San Diego, CA 92101. The Padres are a part of the National League (NL) West division and their season typically runs from April to October.
Apart from hosting Padres games, Petco Park also holds various local sports and events. Tickets for these events can be purchased by contacting:
Ticket Sales: 877-374-2784
Group & Season Tickets: 619-795-5500
Spring Training (Peoria, AZ): 800-409-1511
NFL: San Diego Chargers (Former)
The San Diego Chargers were a National Football League (NFL) team based in San Diego until their relocation to Los Angeles in 2017. They are now known as the Los Angeles Chargers. When they were in San Diego, the Chargers played their home games at the Snapdragon Stadium, located at 2101 Stadium Way, San Diego, CA 92108.
As the Chargers have moved to Los Angeles, San Diego currently no longer has an NFL team; however, Snapdragon Stadium is still utilized for various local events.
Other notable stadiums and arenas in San Diego include the Pechanga Arena San Diego (formerly San Diego Sports Arena and Valley View Casino Center), Tony Gwynn Stadium, and RIMAC Arena. These venues host concerts, sports, and more live events throughout the year.
Accessibility & Transportation
San Diego's stadiums and arenas have made efforts to offer accessibility and transportation options to individuals with disabilities and support a diverse range of visitors. In this section, we will discuss parking and public transportation options to ensure all visitors have a comfortable and stress-free experience.
Parking Options
Snapdragon Stadium, located at 2101 Stadium Way, San Diego, CA 92108, offers accessible parking options for patrons with disabilities. These parking spaces are available on a first-come, first-served basis. Furthermore, the venue's box office hours are Wednesday-Friday 10 AM – 5 PM for any accessibility-related inquiries.
Pechanga Arena, on the other hand, located at 3500 Sports Arena Blvd, San Diego, CA 92110, has a dedicated box office for accessible tickets. The box office hours are:
Fridays: 11:00 am to 5:30 pm
Saturday – Thursday: Closed
Public Transit
Public transit is another viable option for those who prefer not to drive. San Diego has a well-connected public transportation system consisting of buses and trolleys that can take visitors to major attractions, including stadiums, and arenas.
Moreover, San Diego's public transportation system honors Americans with Disabilities Act (ADA) guidelines to ensure accessibility and ease of use for individuals with disabilities.
Utilizing San Diego's public transit options for attending events at Snapdragon Stadium and Pechanga Arena can help to reduce traffic congestion and contribute to a more sustainable environment.
Remember to plan your trips ahead of time to ensure a smooth and hassle-free experience attending events in San Diego's stadiums and arenas.
Nearby Attractions & Amenities
Restaurants & Bars
San Diego offers a variety of dining options and bars near its stadiums