Oriole Park at Camden Yards, home of the Baltimore Orioles, is a popular destination for baseball fans and visitors to the city. With its easy accessibility and prime location, getting to the ballpark can be a breeze if you know the best options for transportation and parking. This quick guide will help you navigate your way to the stadium and ensure a smooth experience, regardless of your preferred mode of travel.
Whether you're a local or a tourist, there are multiple ways to reach Oriole Park. From public transit to driving and alternative transportation options, you'll be able to find the method that best suits your needs and preferences. Apart from the actual game, the surrounding area offers a variety of attractions and activities to complete your visit. Our guide also provides helpful tips and accessibility information to make your trip to Oriole Park at Camden Yards as enjoyable as possible.
Key Takeaways
Choose the most convenient transportation option for your needs
Plan for parking and consider nearby attractions
Utilize helpful tips and accessibility information for a smooth experience at Oriole Park
Choosing a Mode of Transportation
Public Transit
There are various public transportation options to reach Oriole Park at Camden Yards. The Baltimore Light Rail, MARC Train, Metro Subway, and several bus lines are accessible options. These are convenient and cost-effective ways to get to the stadium.
One specific route to consider is taking the train from Union Station to Camden Station, which takes around 1 hour and 10 minutes, with ticket prices ranging from $2 to $10.
Car
If you prefer driving, there are parking options available at Oriole Park in Lots F, G, and H. General parking usually opens 2 hours prior to the scheduled first pitch. You can also choose reserved parking at nearby Camden Yards parking lots or off-site garages. Be sure to consider traffic and allot enough time for parking.
Bicycle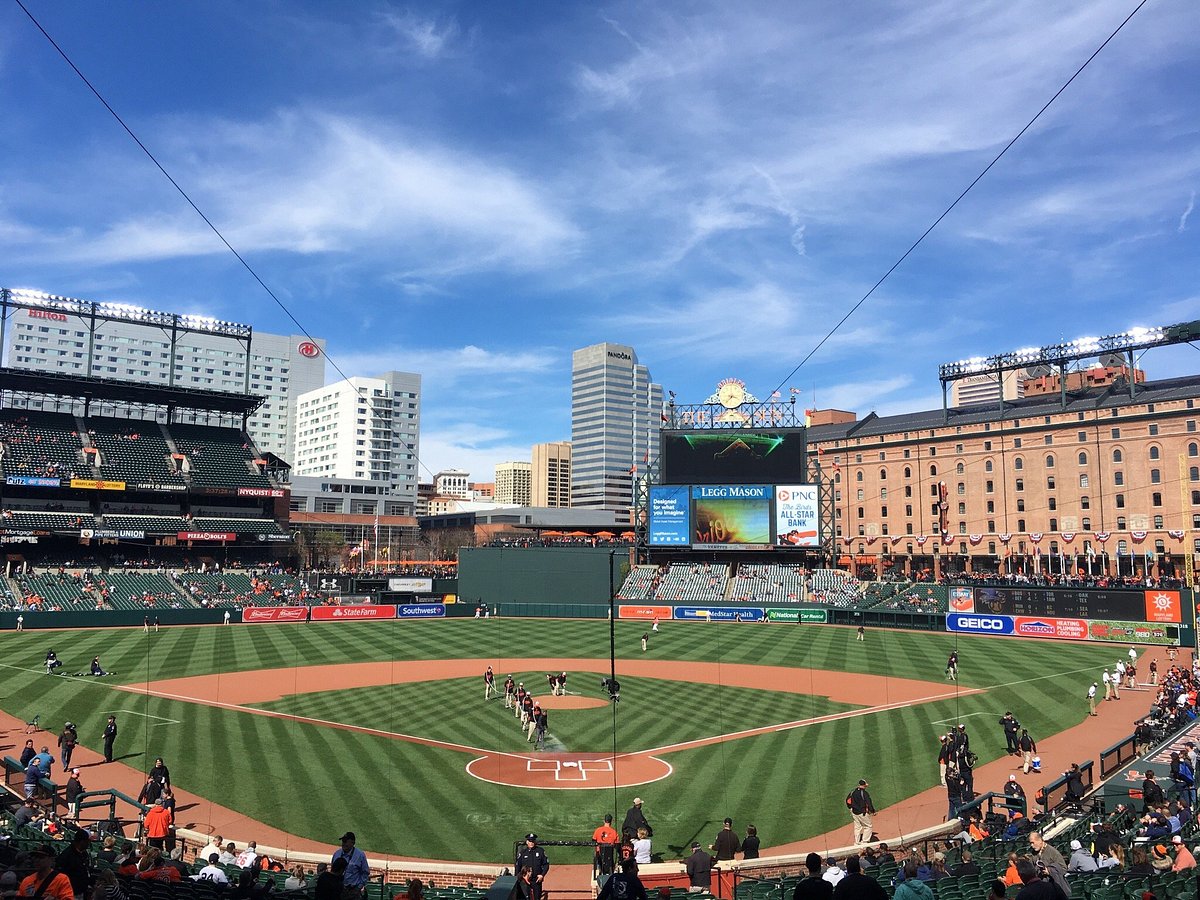 Cycling to Oriole Park at Camden Yards could be a healthy and environmentally friendly choice. Look up bike routes and dedicated lanes within the city. Remember to secure your bicycle at a designated bicycle parking area near the stadium.
Walking
For those who live or are staying nearby, walking to the stadium can be a great way to enjoy the city and get some exercise. Check out a map of the area or use your preferred mapping application to find the best walking route to Oriole Park at Camden Yards. Keep in mind the surrounding streets and pedestrian access points for a stress-free walking experience.
Public Transit Options
Light RailLink
The Light RailLink provides an affordable and convenient way to reach Oriole Park at Camden Yards. With round trip fares under $4 and free parking at most stations outside the city, it's a cost-effective option. The streetcar service connects to various parts of Baltimore, making it easy for fans to arrive at the ballpark without dealing with traffic.
Metro SubwayLink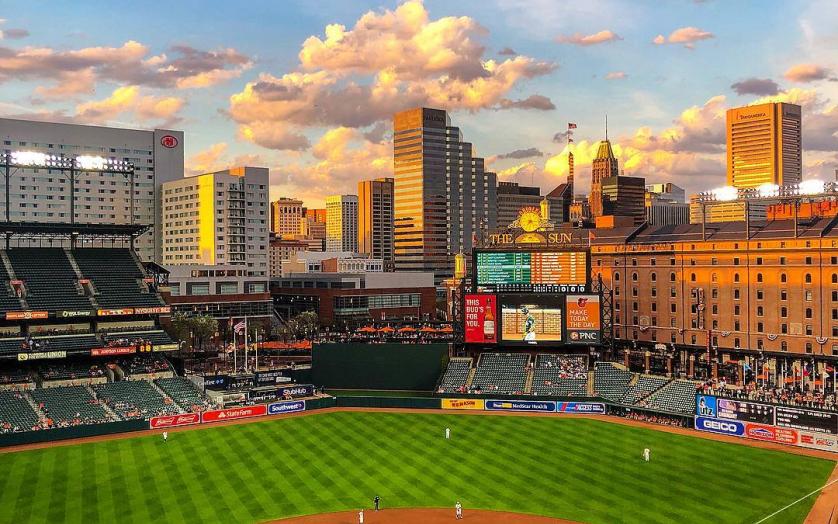 Another public transit option is the Metro SubwayLink, connecting the northwest suburbs of Baltimore to downtown. To reach Oriole Park at Camden Yards, take the Metro to Lexington Market station, and then walk for about 15 minutes or transfer to the Light Rail at Howard Street. This option offers a similar affordability and convenience to the Light RailLink, helping fans avoid traffic and parking hassles.
Local Bus
Maryland Transit also operates local bus routes that can take fans to Oriole Park at Camden Yards. For example, the bus route from Baltimore (BWI) Airport to the ballpark is available every 4 hours, with tickets costing around $2 and a journey time of approximately 23 minutes. This option suits those visiting from nearby areas or traveling through the airport.
In summary, there are three main public transit options to reach Oriole Park at Camden Yards, all offering affordability and convenience by bypassing traffic and parking challenges. Choose from Light RailLink, Metro SubwayLink, or local buses, depending on your starting point and preferences.
Driving and Parking
Driving Directions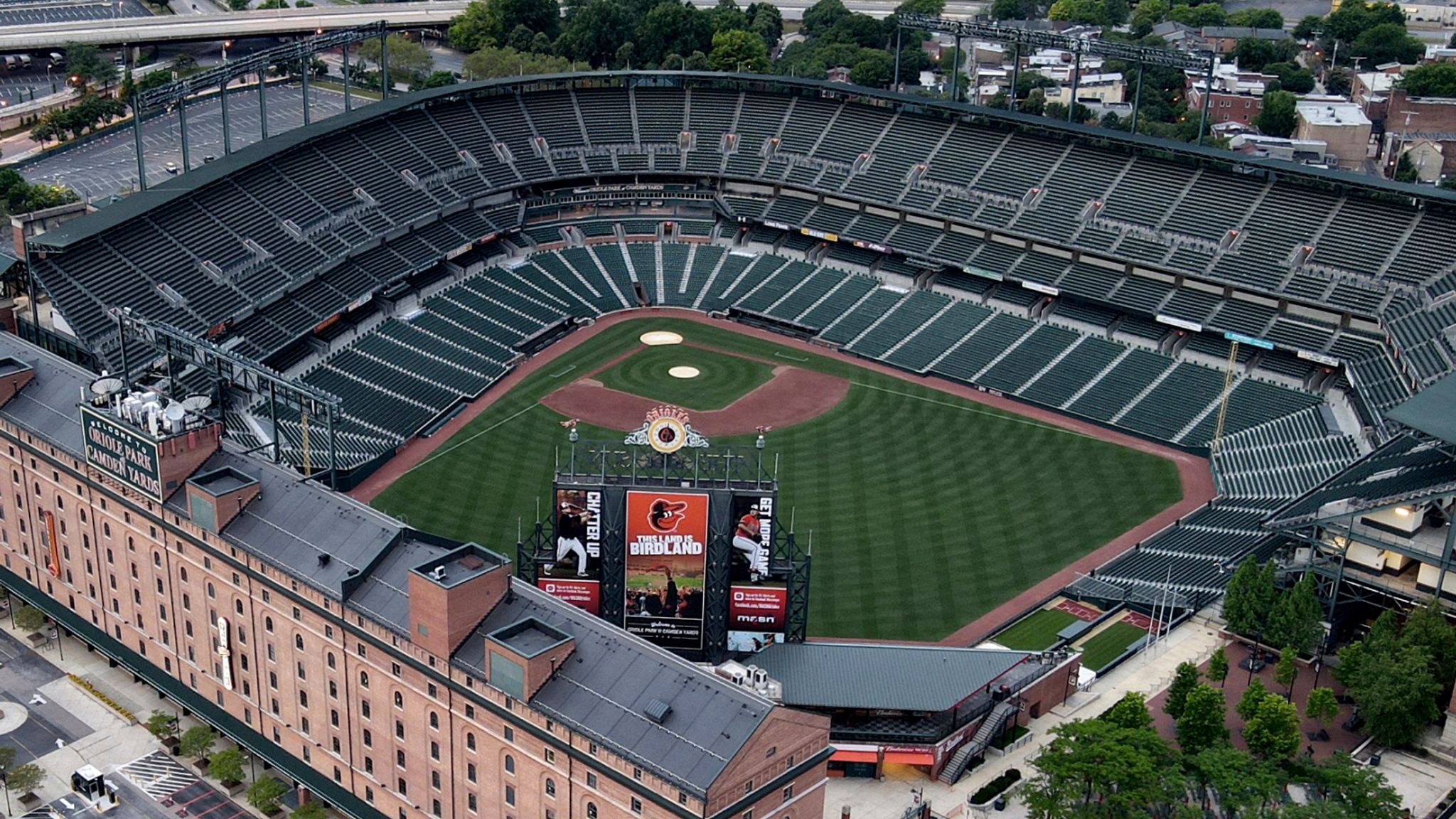 Oriole Park at Camden Yards is located in Baltimore, Maryland. To get there easily, use a map service such as MapQuest or Google Maps to generate step-by-step driving directions tailored to your starting point.
Parking Options
Parking at Oriole Park can be relatively easy if you book your spot ahead of time. There are several parking options available:
Camden Yards Parking Lots: These lots are on-site and offer convenient access to the ballpark. Some of the most popular lots are Lot Lee, Lot A, and Lot B/C. You can find directions to these lots here.

Off-site Garages: There are various off-site garages available nearby. These may offer a more affordable option compared to on-site lots. Some garages may require a short walk or even a light rail ride to reach the ballpark.

Light Rail: Instead of driving and parking, you may prefer using the MTA Light Rail as an alternative way to get to Camden Yards. It can help you avoid traffic and save on parking fees. More information on this option can be found at MLB Ballpark Guides.
To ensure that you don't miss any of the action, consider reserving your parking spot in advance at one of the mentioned options. Remember that gates open only an hour before the game, so it's important to arrive on time and with a plan for parking to make the most of your visit to Oriole Park at Camden Yards.
Alternative Transportation
Ride-Sharing
Ride-sharing services such as Uber and Lyft have become popular options for transportation to and from Oriole Park at Camden Yards. These services offer a convenient way to get to the ballpark without the stress of parking or dealing with traffic. Make sure to check for any surge pricing during peak times and plan your arrival accordingly.
Taxis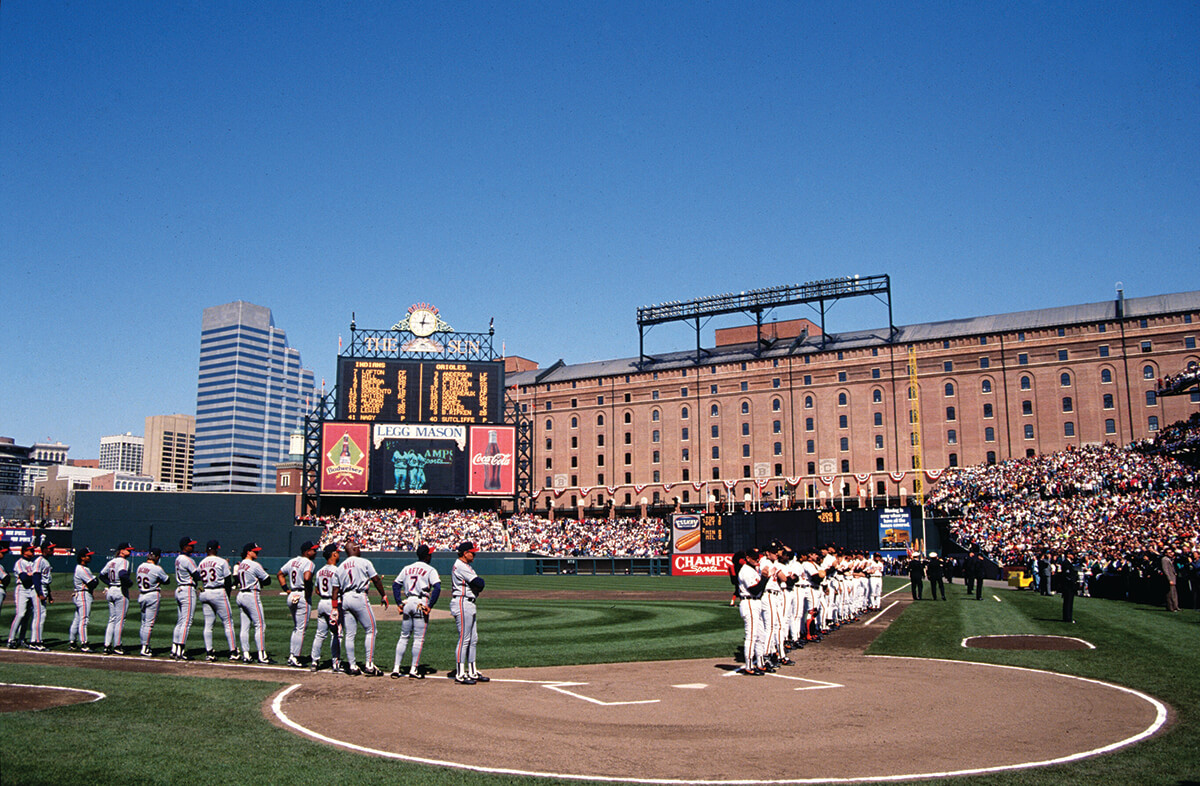 Catching a taxi to Oriole Park is another option for fans who prefer a more traditional mode of transportation. Taxicabs can be found throughout the city, and you can also call or use a mobile app to order one ahead of time. Keep in mind that taxis may have higher fares compared to ride-sharing services.
Charter Buses
For large groups attending an Orioles game, charter buses can be a cost-effective and comfortable way to travel to Camden Yards. Numerous private companies provide group transport services, so make sure you book well in advance. Coordinate with fellow fans to share the cost and enjoy a hassle-free experience on game day.
Nearby Attractions and Activities
When visiting Oriole Park at Camden Yards, make sure to explore some of the nearby attractions and activities to make your trip even more memorable. Just a few minutes away from the ballpark, you can find a variety of interesting sights and activities to enjoy.
The Baltimore Convention Center is located a mere 4 minutes from Oriole Park at Camden Yards and is a hub for various events and conventions throughout the year. If you happen to be in town during an event, it's worth checking out.
Another fascinating place to visit is the Bromo Seltzer Tower, an iconic historical landmark in Baltimore that is only a 4-minute walk from the stadium. This tower provides stunning city views and holds regular art exhibitions, making it an attractive destination for art enthusiasts.
Baseball fans will also appreciate a visit to the Babe Ruth Birthplace and Museum, located just 9 minutes away from Oriole Park. This museum showcases the life and career of the legendary baseball player and Baltimore native Babe Ruth, offering a unique glimpse into his personal life and achievements in the sport.
If you're looking to explore more of the city and take in the breathtaking views surrounding the ballpark, consider joining the Baltimore Helicopter Sightseeing Tour. This tour, operated by Charm City Helicopters, offers a once-in-a-lifetime experience to take in memorable angles of Baltimore from the sky.
Apart from these attractions, Oriole Park at Camden Yards is surrounded by numerous restaurants and bars where you can grab a bite or enjoy a drink, offering a lively atmosphere filled with Baltimore charm. So, when planning your trip to the famous ballpark, make sure to set some time aside to explore the surrounding area and discover all that Baltimore has to offer.
Accessibility
Oriole Park at Camden Yards is committed to accommodating the needs of guests with disabilities or special needs, along with their families and friends. The Baltimore Orioles organization strives to provide a safe, clean, and comfortable environment for all visitors to enjoy their experience at the ballpark.
The park is easily accessible via major highways, making it convenient for fans with disabilities to arrive at the venue. General parking on a day of game basis is available in Lots F, G, and H. Subject to availability, limited parking may be offered in Lot C on a first-come, first-served basis. It is strongly recommended to purchase parking in advance to secure a spot.
In addition to accessible parking, Oriole Park at Camden Yards offers several other accommodations to ensure a comfortable visit for guests with disabilities. These include:
Wheelchair-accessible seating: Located throughout the ballpark, wheelchair-accessible seating areas offer ample space for guests with mobility devices and their companions.
Assistive Listening Devices (ALDs): Available at no cost, ALDs enhance the ballpark's public address system for guests with hearing impairments.
Elevators and ramps: Oriole Park at Camden Yards is equipped with elevators and ramps in various locations to assist guests with mobility limitations in navigating the facility.
By prioritizing accessibility, Oriole Park at Camden Yards ensures that all fans, regardless of their individual needs or challenges, can fully enjoy their visit to this iconic and beloved ballpark.
Helpful Tips for Oriole Park at Camden Yards
Parking: If you're driving to Oriole Park, consider reserving a parking spot in advance. There are dedicated Camden Yards parking lots and off-site garages nearby, with over 30,000 spaces located within one mile of the ballpark. Bicycle parking is also available, with nearly 200 spots around the exterior of the park.
Public Transportation: The Maryland Transit Administration (MTA) provides various public transit options for reaching Oriole Park at Camden Yards. Consider using the Light Rail, Metro Subway or Local Bus services to avoid traffic and parking concerns. The MARC Camden Line also offers direct access to Oriole Park with the Camden Station located just a short walk away.
Gate Timings: Arrive early as gates open only an hour before the first pitch. This will allow you to find your seats, grab a bite to eat, and explore the ballpark without missing any of the action.
Ballpark Amenities: Oriole Park offers plenty of amenities for a comfortable and enjoyable game day experience. Check out the Orioles Team Store for official merchandise, and don't miss the wide variety of food and beverage options available throughout the ballpark.
Remember to follow the park's security procedures and adhere to the ground rules to ensure a safe and pleasant atmosphere for all fans. By planning ahead and using these helpful tips, you can focus on enjoying the game and cheering on the Orioles at Oriole Park at Camden Yards.