KeyBank Center in Buffalo, New York, is a popular venue for a variety of events, including concerts, sporting events, and other entertainment shows. With a seating capacity for over 19,000 spectators, choosing the right seat can make all the difference to your experience at this renowned arena. This article aims to help guide you through the best and worst seats at KeyBank Center, ensuring you make the most of your visit.
The seating layout at KeyBank Center can vary depending on the type of event, but a common configuration is the end-stage setup with the stage located near sections 108, 109, and 110. However, with slight variations that may include General Admission seats, fan pits, and B-stages, it's important to have a clear understanding of the seating chart for the specific event you're attending. We will explore different sections, and provide insights into the advantages and disadvantages of various seats within the venue.
To make your experience at KeyBank Center as enjoyable as possible, we will consider factors such as views, legroom, and proximity to amenities. Whether you're attending a Buffalo Sabres hockey game or an unforgettable concert, this information will assist you in making an informed decision when selecting your seat at KeyBank Center.
Best Seats at KeyBank Center
Lower Bowl Center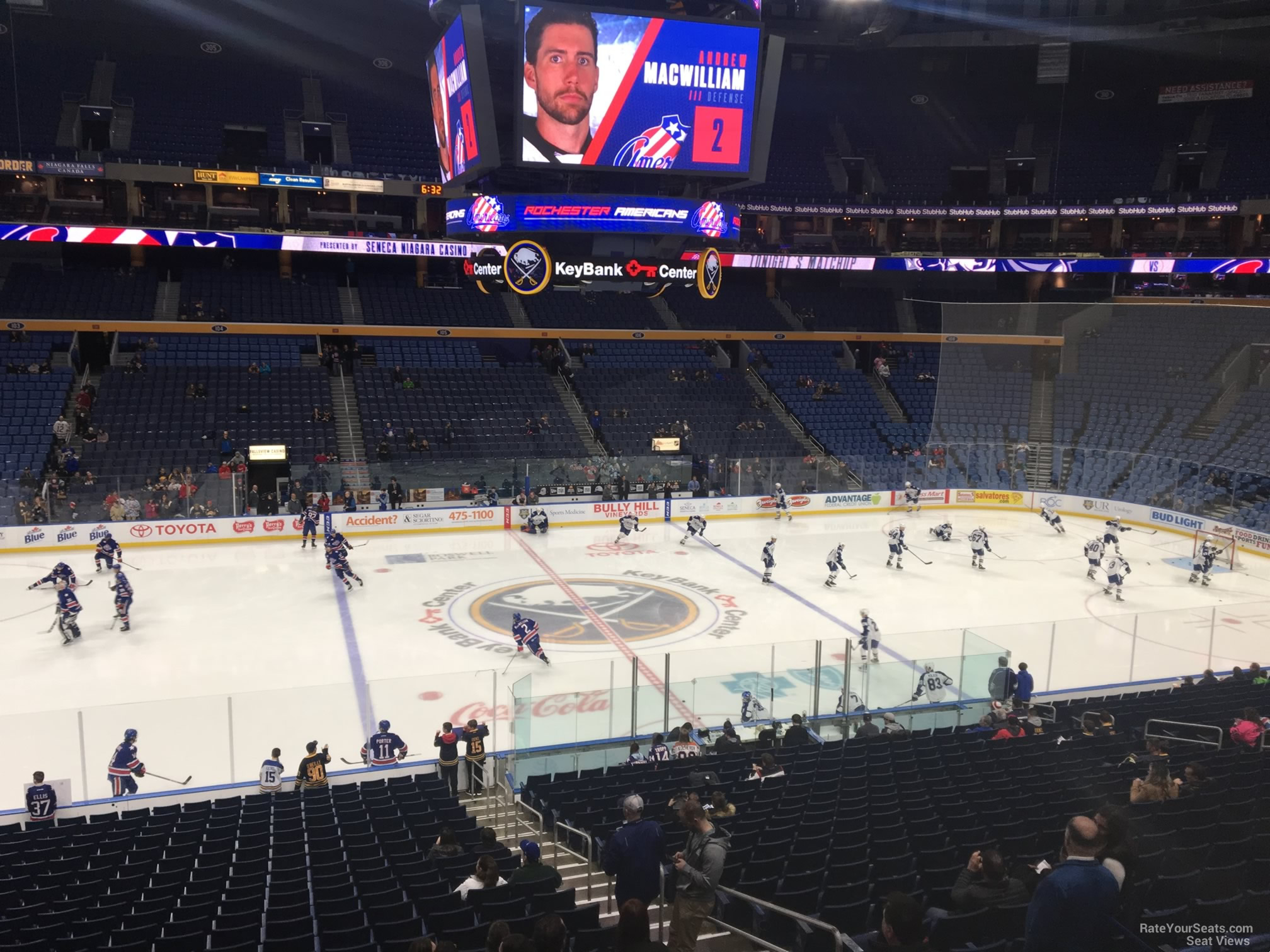 The Lower Bowl Center sections at KeyBank Center are an excellent choice for fans looking to enjoy events up close. With seats in Sections 105-106 and 117-118, you'll have a fantastic view of the action from a comfortable and convenient vantage point. To further enhance your experience, consider choosing seats close to the middle rows to avoid any obstructions due to glass panels or safety rails.
Club Level Center
For a premium experience at KeyBank Center, the Club Level Center offers comfortable seating along with exclusive access to Club Level amenities. Located in the 200 Level Club sections, these seats provide an elevated view of the event, and ticketholders can also enjoy in-seat wait service during Sabres games. With great sightlines and a more luxurious atmosphere, the Club Level Center is an excellent option for fans seeking a high-end experience without sacrificing their view of the action.
Upper Bowl Center
If you're looking for more affordable options while still maintaining a good view of the action, the Upper Bowl Center sections are a solid choice. Located in Sections 315-318, these seats offer a bird's-eye view of the entire arena, allowing you to catch all the action without breaking the bank. Keep in mind that the higher rows might feel a bit more removed from the event, so consider aiming for seats in the lower rows of these sections to optimize your view.
Worst Seats at KeyBank Center
Obstructed Views
Some seats at KeyBank Center have obstructed views due to the arena's setup and the location of pillars, railings, or overhangs. These seats can hinder your experience and make it difficult to fully enjoy an event. In general, these obstructed views are more common in the following sections:
Sections 102, 103, 114, and 115: Lower corners
Sections 306, 307, 319, and 320: Upper corners
It's important to verify your seat's view quality before purchasing tickets by researching event-specific seating charts or using online tools like RateYourSeats.com and real seat views provided by TicketIQ.
Upper Bowl Corners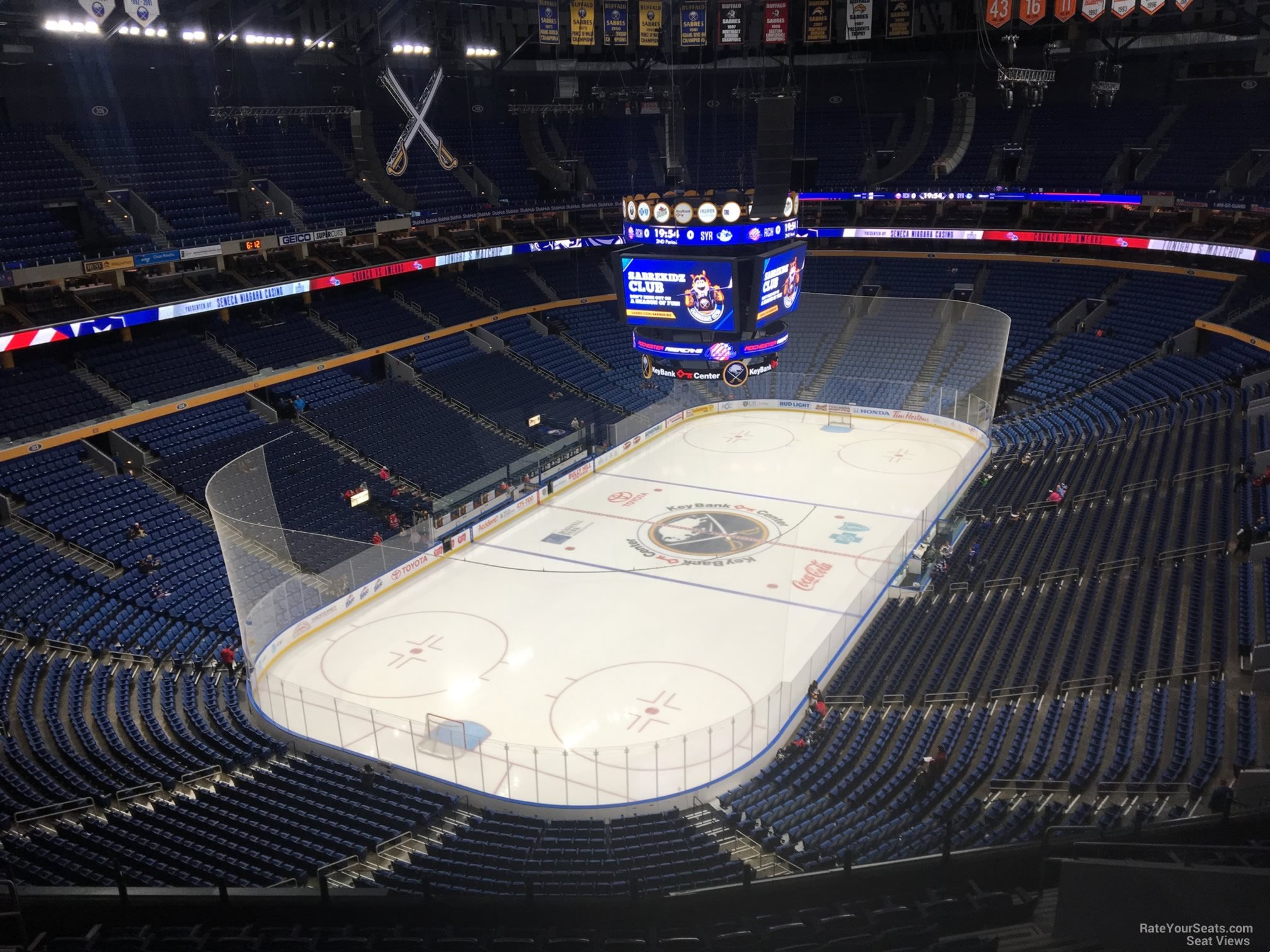 Upper Bowl Corners are some of the least favorable seats in KeyBank Center due to their distance from the action and sometimes steep angles to the event happening below. These seats are often found in sections 304-307, 315-319, and 321-324. While they might offer a more budget-friendly option, they may not provide the best event experience.
Limited view of the stage or rink
Steeper angles can make it difficult to follow the action
Less immersive experience compared to lower levels
Consider spending a bit more money on tickets to secure seats in the Lower Bowl or Center Upper Bowl instead, if possible, for a better overall view and more enjoyable event experience.
Upper Bowl Ends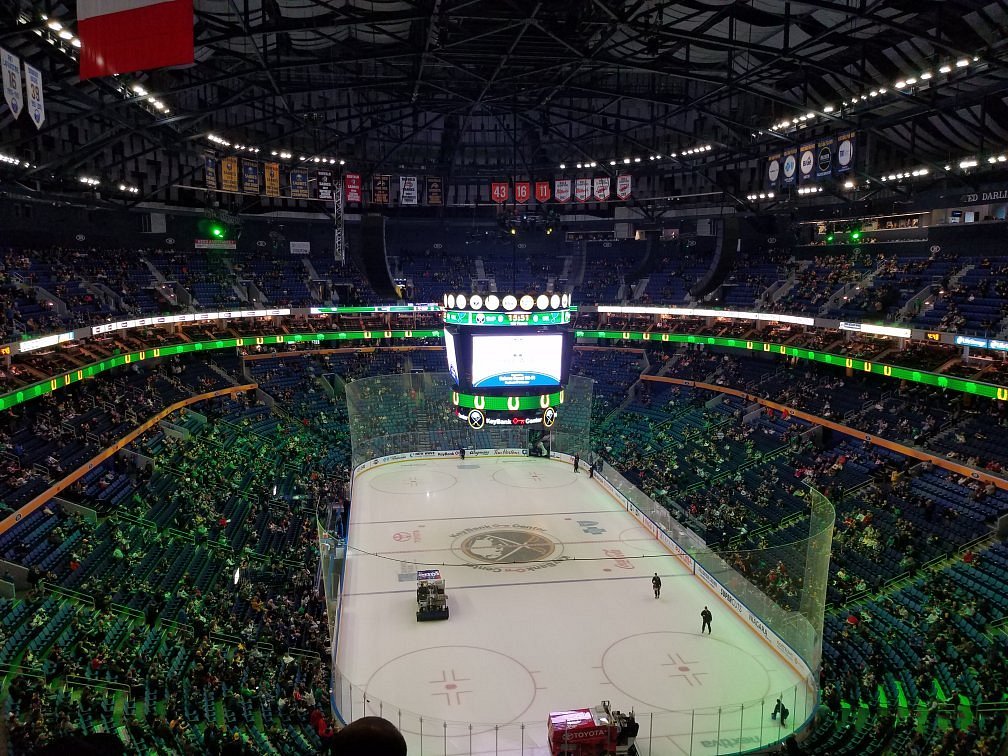 Seats in the Upper Bowl Ends can also be less desirable due to their distance from the stage or rink and potential limited views. For the best view of the entire playing surface at KeyBank Center, it's better to sit along the sides. Upper Bowl Ends are usually found in sections 308-314.
Farther from the stage or rink
Unfavorable angles can make it difficult to see the entire event
If budget allows, opt for seats in the Lower Bowl or Center Upper Bowl for an improved view and event experience.
Additional Factors to Consider
Ticket Prices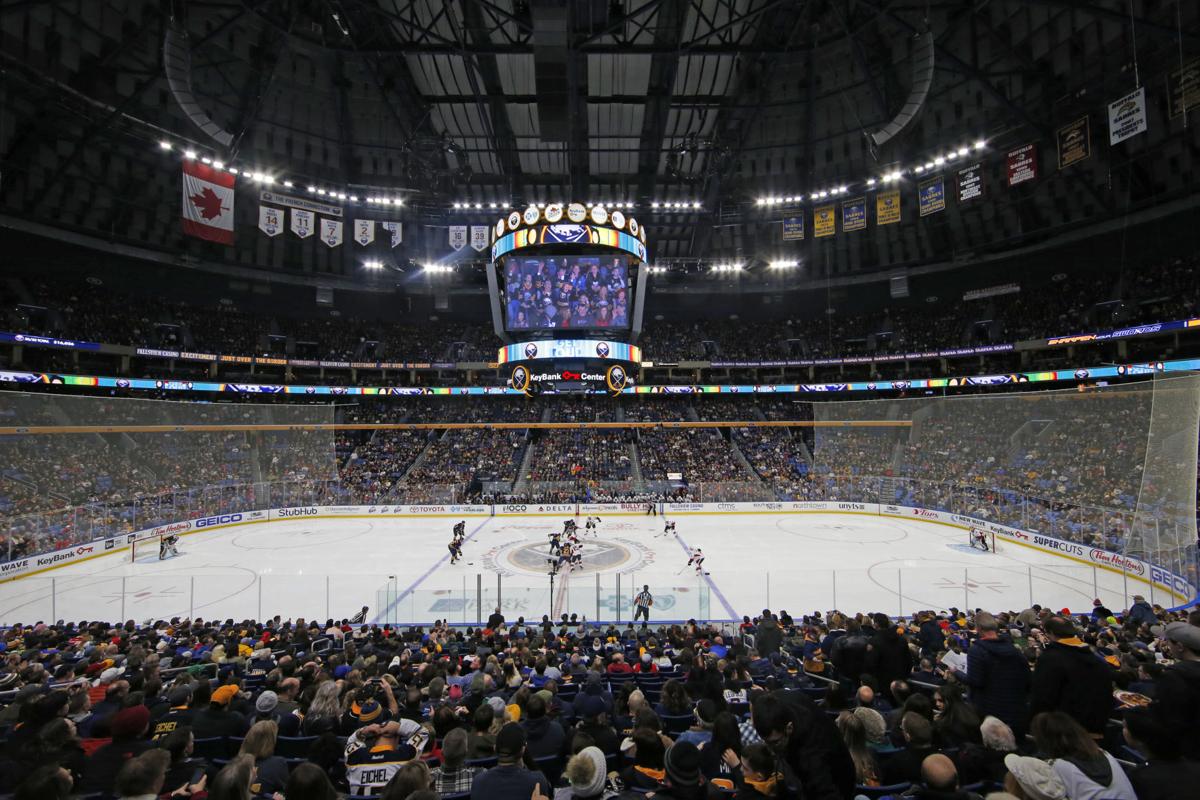 When looking for the best or worst seats at the KeyBank Center, ticket prices can play a significant role in your decision-making process. Generally speaking, premium seating areas such as club seats or lower level center sections tend to be more expensive, while upper-level seats or those located behind the goals usually come at a lower cost. Nonetheless, always keep an eye out for promotions and discounts to get the best value for your money.
Atmosphere and Surroundings
Considering the atmosphere and surroundings is equally essential while choosing the seats at KeyBank Center. Lower level seating areas close to the event action often provide a more immersive experience. However, you might prefer the upper level seats if you'd like a bird's-eye view of the entire venue and don't mind being away from the energy of the lower sections.
Proximity to amenities is also worth considering. For instance, some seats may have quick access to restrooms and concession stands, while others might require a longer walk. If you prioritize convenience, you might want to look for seats close to these facilities.
Accessibility
Finally, it's important to factor in the accessibility of different sections at the KeyBank Center. If you have mobility concerns, make sure to check for available handicap-accessible seating options, as well as the venue's layout and distance between sections and entrances. Additionally, inquire about the availability of elevators or ramps if needed.
To sum up, considering ticket prices, the atmosphere and surroundings, as well as accessibility, will help you make an informed decision about the best and worst seats for your experience at the KeyBank Center.
Tips for Choosing the Right Seat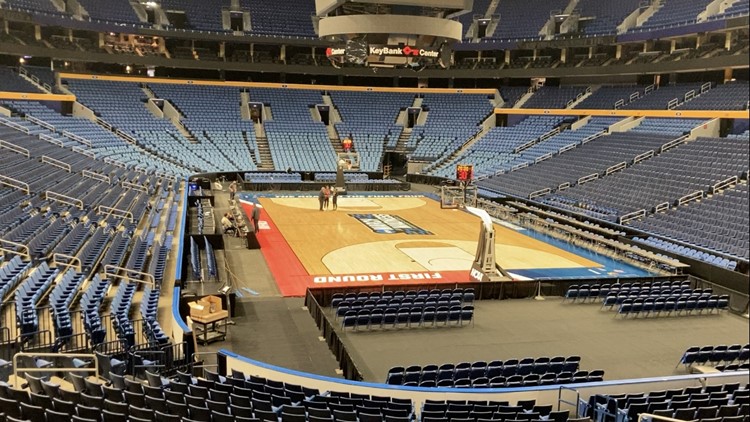 When attending an event at KeyBank Center, finding the right seat can significantly enhance your experience. Here are a few tips to help you pick the perfect spot:
Know the seating layout: The most common seating layout for concerts at KeyBank Center is an end-stage setup with the stage located near sections 108, 109, and 110. For many concerts, there may be variations to the layout, which can include General Admission seats, fan pits, and B-stages. Be familiar with the event's specific seating arrangement to make an informed decision.

Consider the 200 Level Club sections: For Sabres games, some of the best seats are found in the 200 Level Club at the KeyBank Center. These elevated sections offer comfortable sightlines, and ticketholders have exclusive access to Club-Level amenities. Additionally, fans can enjoy in-seat wait service within these club sections.

Check seat views and reviews: Websites like A View From My Seat and RateYourSeats.com provide fans with interactive seating charts and seat views from the KeyBank Center. Additionally, fans share their personal experiences and opinions on the seats they've tried, which can provide valuable insights when choosing your seat.

Consider seat numbers and rows: The detailed interactive seating chart on TicketIQ includes row and seat numbers, real seat views, and community feedback. This information can help you make a smart choice when selecting a seat at KeyBank Center, as the value of the seat in question can vary.
By following these tips, you'll be able to find the best seat at KeyBank Center for your preferred event, ensuring an enjoyable experience.