Citizens Bank Park, home of the Philadelphia Phillies, is a popular destination for baseball fans looking to catch a game in the heart of South Philadelphia's Sports Complex. Getting to the ballpark is a breeze with multiple transportation options available, ensuring a hassle-free experience for all visitors. In this quick guide, we'll discuss the various ways to reach Citizens Bank Park, from public transit and rideshare services to parking information.
Choosing the right mode of transportation is essential for a smooth journey to the stadium. Public transit, provided by SEPTA's Broad Street Line, offers a reliable and convenient option with frequent trains and an easy walk to the park from NRG Station. Alternatively, rideshare services like Uber make door-to-door service feasible. For those who prefer to drive, there are numerous parking options available, though prices may vary.
Regardless of your chosen method of transportation, it's essential to plan ahead to ensure prompt arrival, allowing ample time to enjoy the pre-game atmosphere and find your seats. Citizens Bank Park is equipped with several entrance options, including wheelchair-accessible gates and amenities for guests with disabilities. Let's dive into the details of these transportation options to make your game day experience as smooth as possible.
Key Takeaways
Choose from public transit, rideshare services, or personal vehicles for easy access to the park.
SEPTA's Broad Street Line provides a convenient public transit option with frequent trains.
Parking is available, but consider using a rideshare service for door-to-door convenience.
Choosing Your Mode of Transportation
Public Transit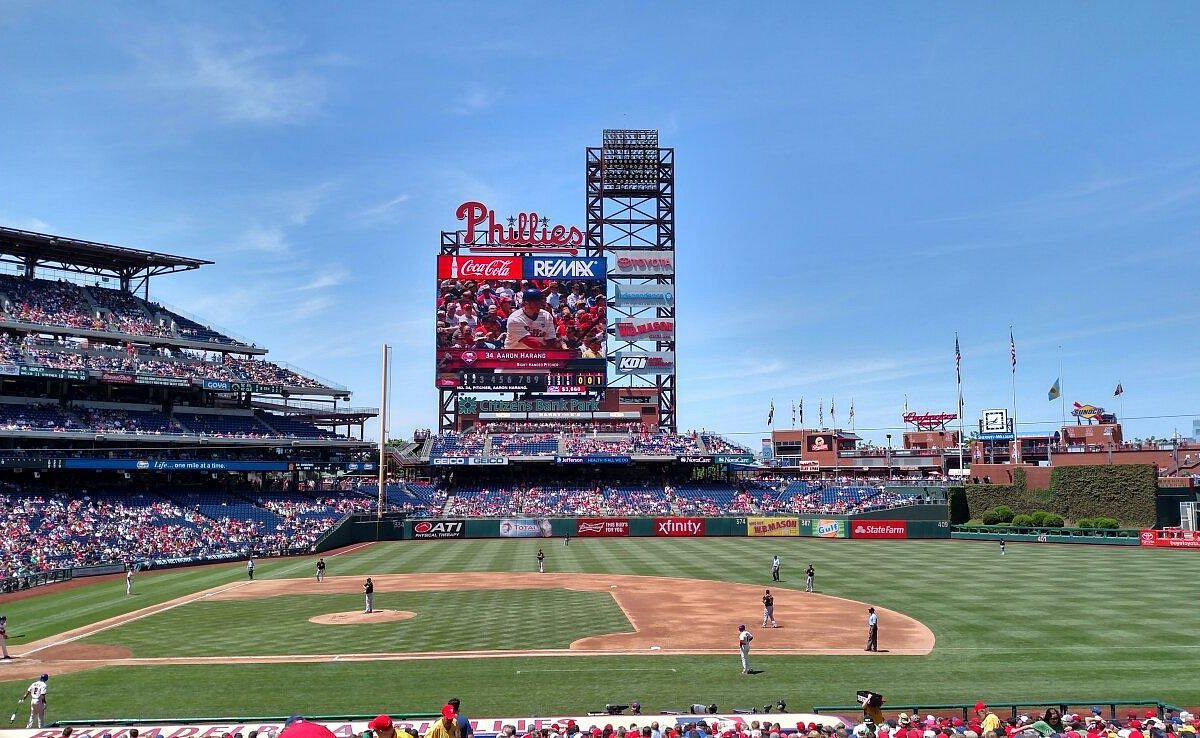 One of the most convenient ways to get to Citizens Bank Park is by using public transportation. In Philadelphia, SEPTA provides various options such as trains, buses, and subways. The subway is a popular choice; take the Broad Street Line (BSL) to the NRG Station, which is just a short walk away from the ballpark. If you prefer the bus, you can use SEPTA's Route 4 or Route 17, which both conveniently stop at the stadium. For visitors coming from New York, Amtrak offers train services from New York Penn Station to Philadelphia, with a trip duration of around 1 hour and 49 minutes.
Rideshare Services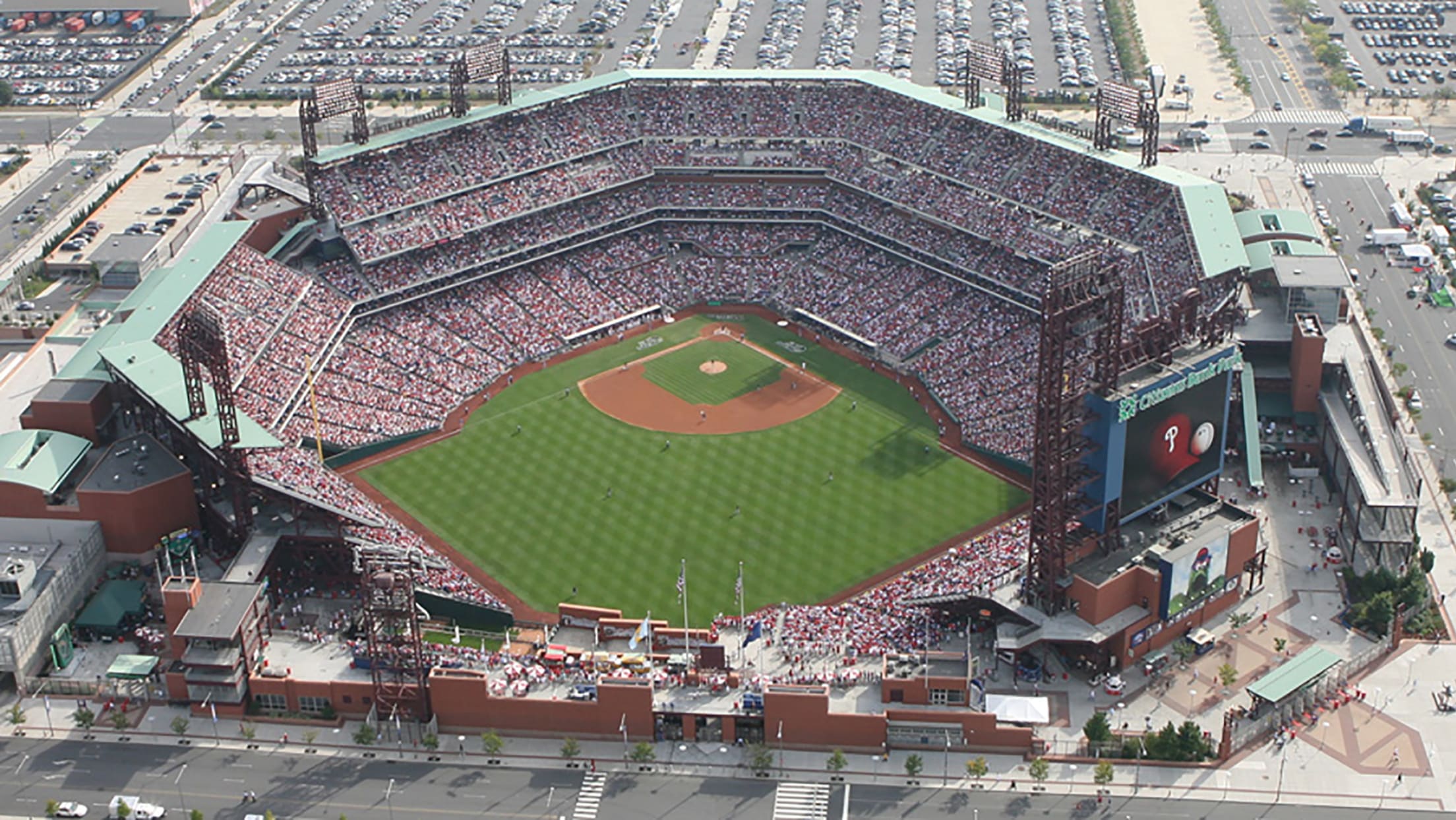 Another option to consider when traveling to Citizens Bank Park is using rideshare services like Uber or Lyft. These services offer a convenient way to get directly to the stadium without worrying about parking or navigating public transportation. Simply input the ballpark's address (One Citizens Bank Way, Philadelphia, PA 19148) as your destination and request a ride.
Driving
If you prefer the flexibility of driving yourself, Citizens Bank Park is easily accessible by car. The ballpark is located in the heart of the Sports Complex in South Philadelphia, and you can follow clear signage when approaching the area. Keep in mind that parking can get quite busy on game days, and there may be additional fees for parking in designated lots near the stadium.
Biking
For those looking to incorporate some exercise into their journey, biking is another option for getting to Citizens Bank Park. The stadium is situated near several bike-friendly routes, making it accessible for cyclists. When you arrive at the park, there are multiple bike racks available for secure storage during the game. Don't forget to bring a lock for added security.
Arriving via Public Transit
SEPTA Broad Street Line
The easiest option to reach Citizens Bank Park is by using the SEPTA Broad Street Line. NRG Station is located at Broad & Pattison and is just a short walk (about 7 minutes) to the ballpark. Trains operate every 8 to 10 minutes, making it a convenient choice. From City Hall, it only takes around 11 minutes to travel to AT&T Station on a local train.
SEPTA Bus Routes
Bus routes 4 and 17 are alternative options for reaching Citizens Bank Park. Instead of using the subway, you can use these bus lines to get to the stadium. Keep in mind that travel times may vary depending on traffic conditions and other factors. It is always a good idea to check the SEPTA website for the latest schedules and information.
SEPTA Regional Rail
For those arriving from outside Philadelphia or further away, you may consider using the SEPTA Regional Rail system. While it doesn't go directly to Citizens Bank Park, you can transfer to the Broad Street Line at certain locations such as Suburban Station, 30th Street Station, or Jefferson Station. Once you have made the transfer, follow the directions provided in the SEPTA Broad Street Line section above to reach the ballpark.
Using Rideshare Services
Uber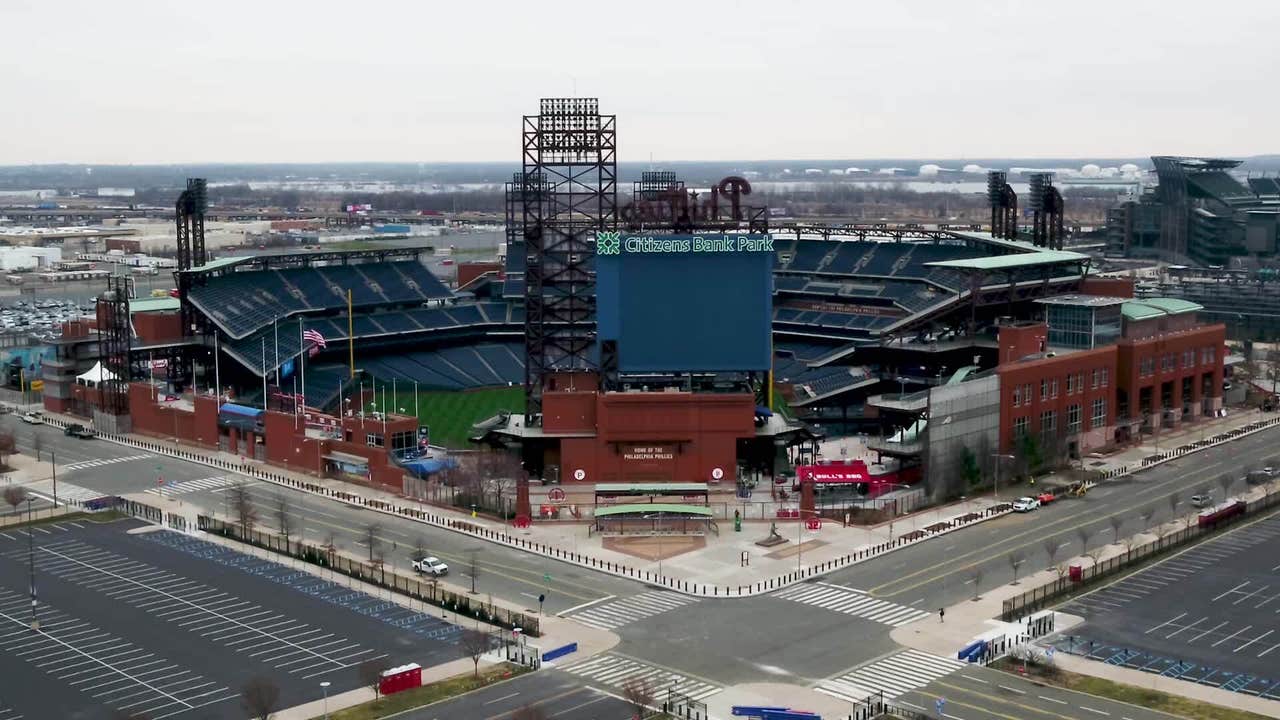 Uber has teamed up with The Phillies to make it easy for fans to travel to and from Citizens Bank Park. Simply open the Uber app, request a ride, and you'll be at the ballpark within minutes. Be aware that during peak times, such as immediately after a game, wait times may be longer due to high demand.
Lyft
Lyft is another convenient option for reaching Citizens Bank Park. Similar to Uber, you can request a ride directly from the Lyft app, and your driver will pick you up and drop you off at your desired location. Keep in mind that wait times can also be longer after games or during popular events.
Taxi
Taxis are a traditional and reliable mode of transportation for getting to the ballpark. While you may not be able to request a taxi through an app like Uber or Lyft, you can still find them around the city or call a local taxi company to arrange a pickup and drop-off. Remember to factor in possible wait times for a taxi, especially after the game, when demand for rides may be high.
Parking Information
On-site Parking Lots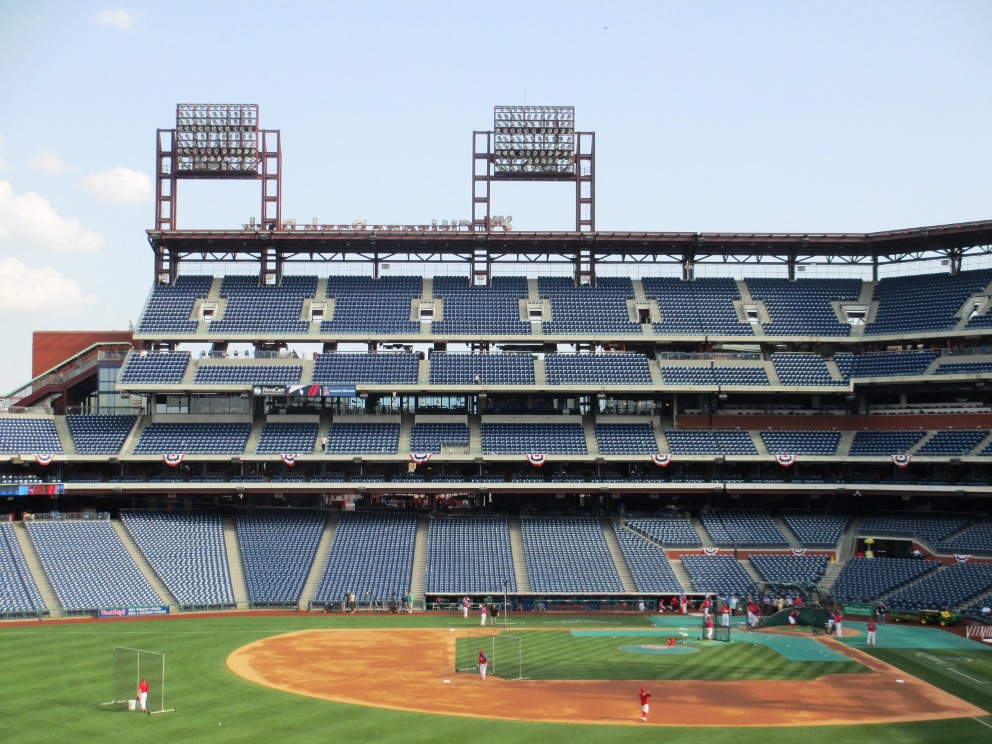 Citizens Bank Park offers on-site parking lots for guests attending events, including designated lots for tailgating. Tailgating is permitted in lots A-H, M, N, and O, opening five hours before the scheduled start time. Non-tailgating lots will open three hours before the scheduled start time. Please note that tailgating is not allowed in parking lots west of Darien Street and north of Pattison Avenue.
Nearby Parking Options
For those who prefer alternatives to on-site parking, there are other nearby options available. One such option is Casino Parking, which is not far from the ballpark. Additionally, you can consider taking the Penrose Avenue exit from either interstate and turning onto Pattison Avenue – this route approaches the ballpark from the less congested west side instead of the east and north.
Pre-Purchase Parking Passes
To ensure a smooth parking experience, consider pre-purchasing parking passes before attending an event at Citizens Bank Park. Keep in mind that all parking for Phillies games at Citizens Bank Park will be cashless, so having a parking pass ready in advance will save you time and hassle.
Entering the Stadium
Gate Locations
Citizens Bank Park has multiple gates for guests to enter the ballpark. All tickets will have a specific gate listed, directing guests to the entrance closest to their seats. The ballpark has been designed to be accessible with wheelchair-accessible gates at every bank of turnstiles. Additionally, elevators, escalators, ramps, and stairways are available to make movement within the stadium convenient for all guests.
Entry Tips
For all 6:40 pm games, gates will open at 5:35 pm. For all other start times, gates will open 90 minutes prior to the scheduled first pitch. Make sure to plan your arrival accordingly.
Parking for Phillies games at Citizens Bank Park is cashless. Car parking costs $25, while oversized vehicles that occupy more than one spot will be charged $50. Bus parking is available for $50 in Lots M, N, and Q (limited on 10th Street).
Remember to check the weather forecast beforehand and dress accordingly, as the stadium is open-air.
To make your entry smoother, familiarize yourself with the stadium's bag policy and security measures, and ensure you follow them to prevent any delays or inconvenience when entering.
By considering these tips and planning your visit in advance, you'll be able to enjoy a seamless entry experience when attending an event at Citizens Bank Park.
Accessibility
ADA Services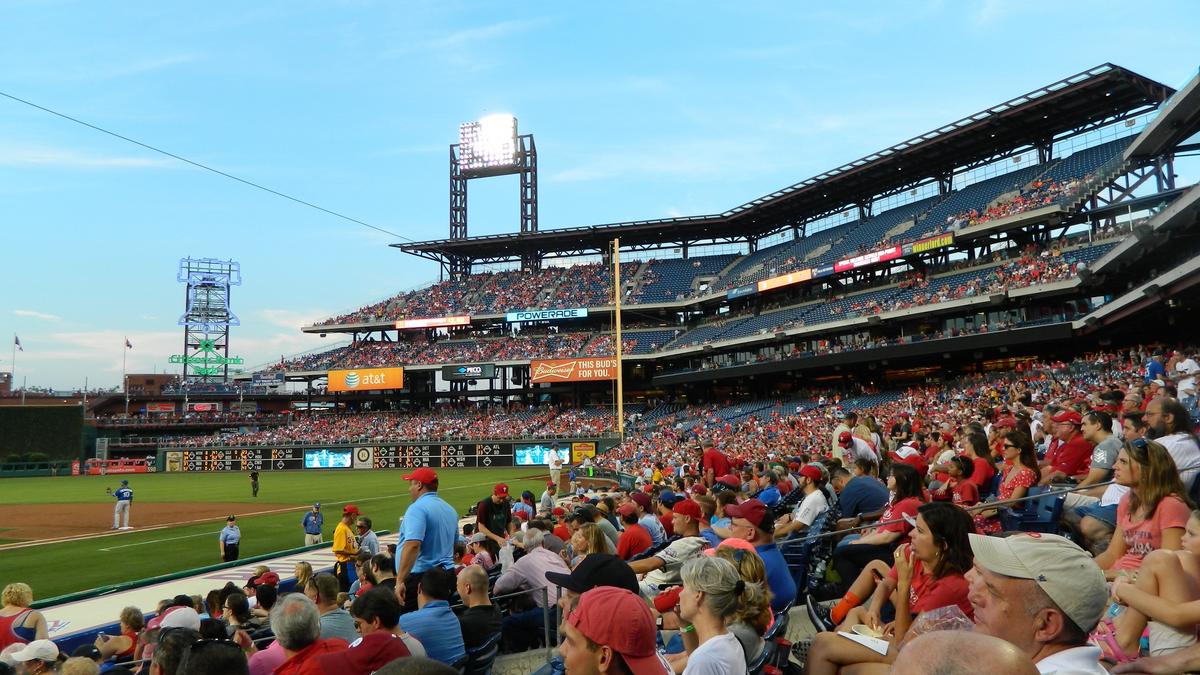 Citizens Bank Park strives to accommodate guests with disabilities, ensuring an enjoyable experience for all. The ballpark offers a variety of services, including:
Wheelchair-accessible gates: Every bank of turnstiles at the Main Concourse street level entrance provides wheelchair-accessible gates.
Elevators: For guests with disabilities, elevators are available throughout Citizens Bank Park.
Escalators, ramps, and stairways: The ballpark is equipped with these features to facilitate easy movement throughout the facility.
For more information about accessibility options, consult the Citizens Bank Park Access Guide.
Mobility Assistance
At Citizens Bank Park, mobility assistance services are readily available to make your visit more comfortable and convenient:
Seating: Designated wheelchair and companion seating locations are available throughout the ballpark.
Drop-off and pick-up areas: There are designated areas near the ballpark for drop-off and pick-up for fans with disabilities.
Restrooms, concessions, and amenities: All restrooms and concession stands are accessible to guests with disabilities. Additionally, drinking fountains, ATMs, and merchandise stands are also accessible.
For any questions or concerns about accessibility at Citizens Bank Park, visit the Philadelphia Phillies website.