Houston, Texas is not only renowned for its rich history, vibrant culture, and booming economy but is also a hub for numerous sports and entertainment events.
The city has built various state-of-the-art stadiums and arenas that cater to the needs of its sports enthusiasts and showcase the best of its diverse talent.
With a multitude of entertainment options and facilities, these venues have become an integral part of the fabric of Houston's sports culture.
Home to various professional sports teams like the Houston Astros (MLB), Houston Rockets (NBA), Houston Texans (NFL), Houston Dynamo FC, and Houston Dash, these stadiums and arenas host action-packed events year-round.
The city's main venues include Minute Maid Park, NRG Stadium, Toyota Center, Shell Energy Stadium, and TDECU Stadium. Apart from sports events, these venues also serve as excellent locations for concerts, special events, and conventions, ensuring there's always something exciting happening in Houston.
Each of these venues has contributed significantly to the city's identity and economic impact, receiving national and international recognition for their exceptional facilities.
With a keen focus on visitor experience, accessibility, and sustainability, Houston continues to enhance its reputation as a sought-after destination for sports and entertainment, captivating both residents and visitors alike.
A History of Stadiums and Arenas in Houston
Early Venues
Houston has a rich history of sports venues, dating back to its first domed stadium, the Astrodome, which was built in 1965.
The Astrodome was the world's first air-conditioned indoor stadium, and it was considered a major architectural accomplishment at the time.
The stadium was primarily used for baseball, as it was home to the Houston Astros, but also hosted football games, boxing matches, concerts, and other events.
Modern Developments
As Houston's sports scene continued to grow, so too did its need for more modern facilities.
In 2002, construction was completed on the NRG Stadium at a cost of $352 million. The multi-purpose stadium has a seating capacity of 72,220 and was the first NFL facility to have a retractable roof. NRG Stadium is currently home to the Houston Texans, and it has also hosted a variety of other events, such as concerts and rodeos.
Another notable sports venue in Houston is the Toyota Center, which opened its doors in 2003. The arena was built at a cost of $235 million, with the city of Houston covering the majority of the expenses and the Houston Rockets paying for enhancements.
The Toyota Center is primarily used for basketball, serving as the home court for the Houston Rockets. The arena has also hosted concerts, ice shows, and other events throughout its history.
In addition to these major stadiums and arenas, Houston also boasts more specialized sports venues, such as the Shell Energy Stadium, which serves as the home field for the Houston Dynamo FC and Houston Dash soccer teams.
Moreover, the Berry Center is a multipurpose facility that has hosted various sports, meetings, and events since its construction in 2006.
Major Stadiums and Arenas in Houston
NRG Stadium
NRG Stadium, opened in 2002, is a multi-purpose stadium located in Houston, Texas.
Primarily known as the home field of the Houston Texans of the NFL, it also hosts other events such as the Texas Bowl (NCAA). The stadium has a seating capacity of over 70,000 spectators and is known for its retractable roof, which allows for both indoor and outdoor events.
Key Features:
Seating capacity: over 70,000
Home team: Houston Texans (NFL)
Notable events: Texas Bowl (NCAA)
Minute Maid Park
Minute Maid Park, located in downtown Houston, is a retractable-roofed ballpark that is home to MLB's Houston Astros.
It was initially built in 2000 and has since been known for its unique and quirky architectural features, such as the train that moves along the tracks atop the outfield wall whenever an Astros home run is hit.
Key Features:
Seating capacity: over 41,000
Home team: Houston Astros (MLB)
Notable design features: Outfield wall train
Toyota Center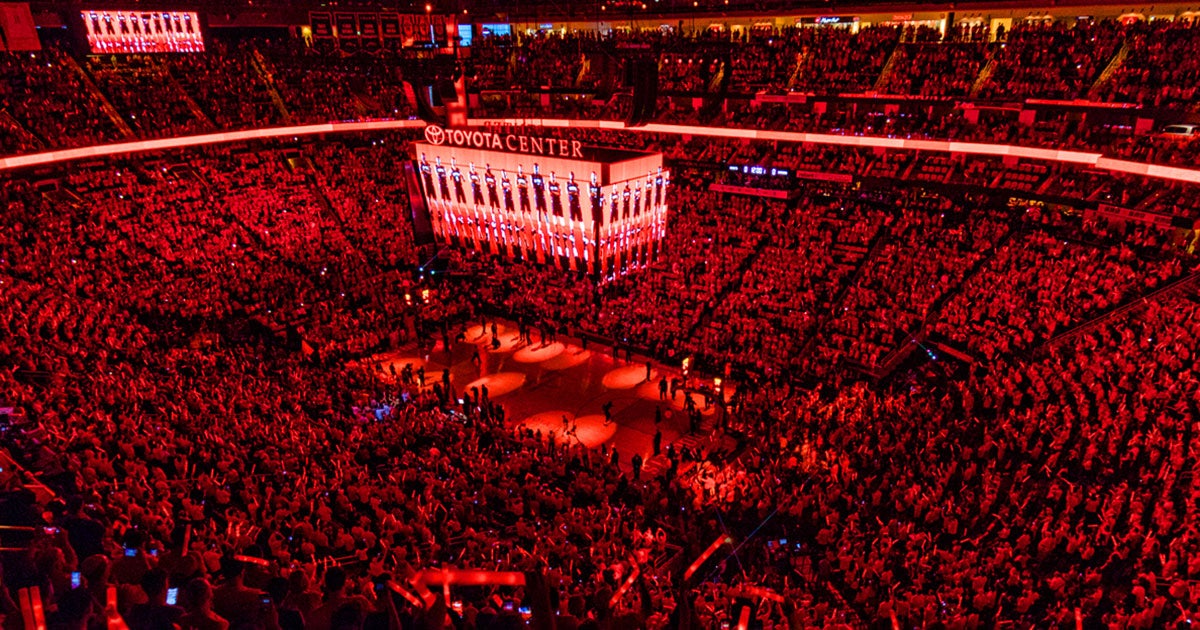 Toyota Center, situated in the heart of Houston, is a versatile indoor arena that opened its doors in 2003.
It is the home court of the NBA's Houston Rockets and the WNBA's Houston Comets.
With a seating capacity of over 18,000, it also hosts various concerts and other events throughout the year. The arena consists of multiple levels, including luxury suites and premium seating options.
Key Features:
Seating capacity: over 18,000
Home teams: Houston Rockets (NBA), Houston Comets (WNBA)
Venue for: Concerts, events, and other sports matches
Smaller Venues and Arenas
Houston has a variety of stadiums and arenas, both big and small. This section highlights two noteworthy smaller venues in the area: BBVA Stadium and Revention Music Center.
BBVA Stadium
BBVA Stadium, home to the Houston Dynamo FC and Houston Dash, is a versatile soccer venue located in the Warehouse District. Since its opening in 2012, the multi-sport stadium has hosted nearly 300 events, including:
Three CONCACAF Gold Cups (2013, 2015, 2017)
Houston Dynamo FC games
Houston Dash games
The stadium provides a more intimate experience for fans, with a seating capacity of just over 22,000. The venue's architecture and modern amenities make BBVA Stadium a popular choice for soccer enthusiasts.
Revention Music Center
Located in the heart of downtown Houston, Revention Music Center (previously known as the Bayou Music Center) is a versatile indoor venue that hosts a variety of events, including:
Concerts
Comedy shows
Private events
With a maximum capacity of 2,800, the Revention Music Center offers a cozy atmosphere for various types of performances. Its state-of-the-art sound system and excellent acoustics ensure that visitors enjoy high-quality audio experiences.
Apart from the main stage, Revention Music Center also features a smaller secondary stage for more intimate shows, allowing guests to get up close and personal with their favorite performers.
Events and Attractions
Houston is home to several stadiums and arenas that host a variety of events and attractions. This section will discuss some of the main events held at these venues, including sporting events, concerts, and other forms of entertainment.
Sporting Events
Houston boasts a number of professional sports teams that bring excitement to the city's arenas and stadiums. For example, the Toyota Center is home to the NBA's Houston Rockets, while NRG Stadium hosts the NFL's Houston Texans. Additionally, the Houston Dynamo and Houston Dash soccer teams play at BBVA Stadium. Each of these venues regularly hosts thrilling games and matches that attract large crowds.
Aside from professional sports, Houston also hosts the famous Houston Livestock Show and Rodeo at NRG Stadium every March, drawing rodeo enthusiasts from around the world.
Concerts
Music fans in Houston have plenty of opportunities to catch their favorite artists and bands performing live, as the city's arenas and stadiums frequently host concerts and music festivals. The Toyota Center, for example, has been known to host major artists from various musical genres, while the NRG Stadium attracts large-scale stadium tours by world-famous acts.
Furthermore, during the Houston Livestock Show and Rodeo, blockbuster musicians perform after each rodeo event, attracting music fans in addition to rodeo spectators.
Entertainment
Aside from sporting events and concerts, Houston's arenas and stadiums also host a wide range of entertainment options, such as family shows, exhibitions, and special events. NRG Park, which includes NRG Stadium, NRG Center, NRG Arena, and NRG Astrodome, often hosts events like:
Comic conventions
Car shows
Home and garden expos
Graduation ceremonies
With such a diverse array of events and attractions, Houston's stadiums and arenas truly have something for everyone, ensuring that both residents and visitors can enjoy a memorable experience.
Transportation and Parking
Public Transit Options
Houston's public transit system offers various options for those who wish to attend events at stadiums and arenas in the city. The Houston Metro and its METRORail operate multiple routes near and around NRG Park, making it a viable transportation option for events held at NRG Stadium. For complete information on schedules, parking areas, and fares, please visit ridemetro.org or call 713-635-4000.
For guests with disabilities, METRO offers accessible services. To learn more about these services, call 713-225-0119 or 713-652-8969 (TDD).
Parking Facilities
There are parking spots available at NRG Park, which hosts events at the NRG Stadium and NRG Center. To view the parking map, you can check nrgpark.com. This will help you plan your parking ahead of time and ensure a smooth experience.
For events held at the Toyota Center, parking options are also available. There are numerous parking lots and garages close to the arena for a fee, and street parking is also an option. It's recommended to arrive early to secure a spot and to check the Toyota Center's website for any specific event-related parking information.
Key tips for parking:
Arrive early
Check the venue's website for parking maps and any specific event-related information
If possible, consider using public transportation or carpooling to minimize congestion and parking challenges
James is a big time NBA Golden State follower, who makes sure to catch games when he's in the area. He likes to follow International Soccer, with an interest in small town soccer club, Blackburn Rovers located in the North on the UK.